How to make a Pettinice fondant flower cake with Tracey van Lent
What you will need: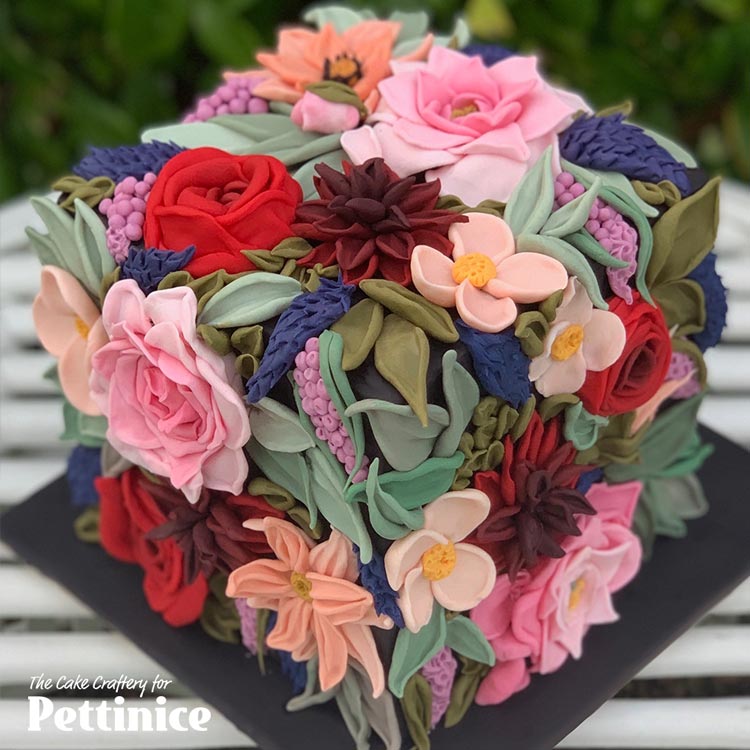 Equipment
Dresden tool
Ball tool
Small scissors
Sponge for shaping on (or use palm of your hand)
Small food-safe paint brush
Pins
Pointed tool or cocktail sticks.
Small scales if you want to follow colour mixes.
Edibles
Pettinice fondant - black, white, colours as follows
Edible glue of your choice - you can use edible glue, piping gel, royal icing, or even Isomalt (which holds almost instantly!)
Cornflour/cornstarch or vegetable fat, used sparingly, to prevent sticking.

Prepare your colours
You can use any colour palette but to replicate these colours you can mix Pettinice colours as follows, the ratios in brackets refer to the colour mixing charts found here.
Quantities given will make enough leaves and flowers to cover a 14cm cube cake. This is an approximate guide as sizes and thicknesses of leaves and flowers will be slightly different for each person making them.
Sage Green for main leaves - Mix Pink 125g with 7.5g Green (50:1), then add white to some for variation of tint
Dinosaur Green for filler leaves -  Mix 80g Orange with 4g Blue (20:1)
Pink for larger roses - For centre petals mix 15g White with 15g Pink  (1:1)
Next row is 25g White with 5g Pink (5:1). Outer petals  mix 20g White with 1g Pink (20:1)
Burgundy for dahlias - Mix 60g Red with 2g Blue and 1g Black (60:2:1) Split this in half. Reserve one half for your 2nd row of petals. Take the other half and add another 0.5g Black to it for your 3rd (central) row of petals. For the first row of petals, mix 40g Red with 1g Blue.
Ruby and Red for smaller roses  - Use burgundy for centres (there should be a little left over from dahlias, if not, mix 25g Red with 2 g Blue. Mix ruby red for 1st 2 rows of petals - mix 25g Red with 0.5g Blue. For the 3rd row, mix 50g red with 0.5g blue. For the outer row of petals use 50g Pettinice Red.
Peachy orange for star-shaped flowers  - Mix 50g Pink with 20g Yellow (50:20), once mixed break off a 25g piece and reserve for the darker inner petals.  Add 25g White to the remaining 45g piece to make a lighter peachy colour for the outer petals.
Pale peach for 4-petal flowers - Mix 35g White with 2g Pink and 1g Yellow.
Berry sprays or lilac sprigs -  Mix 75g Pink with 1.5g Purple for berry sprays (50:1)
Deep royal blue wisteria - 50g Blue mixed with 50g Purple
A little golden yellow for centres - You don't need much so just take a 10g  ball of Yellow and add the tiniest speck of Red.
Extra fondant scraps to make base disks for the flowers if not forming directly onto the cake.
The main method to form nearly all the petals and leaves for this cake is to make sausage shapes with both ends tapered for leaves and leaf-shaped petals, or a teardrop shape for rose petals,  flatten along the length with a ball tool, and then refine with a Dresden tool. This shape will replicate the shape a standard palette knife might produce with oil paint.  The other rounder petals are made by starting with a ball and pressing a ball tool into the centre of it. The look we are going for is not the delicate thinly rolled petals of gumpaste flowers. It has thicker, rounded edges.
NOTE: You can choose to form all the flowers and leaves directly onto the cake, or complete them first and attach to cake later. I did a combination of both. I worked directly onto the top of the cake but for the sides, I made the bigger flowers on my work surface and glued them onto the cake later, using pins to hold them in place until the glue dried.

Cover your cake and begin creating leaves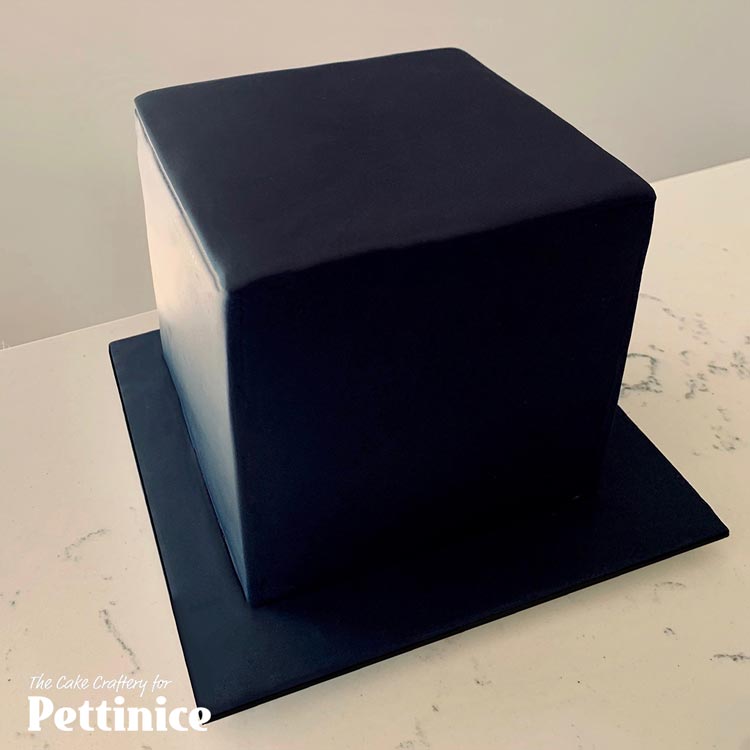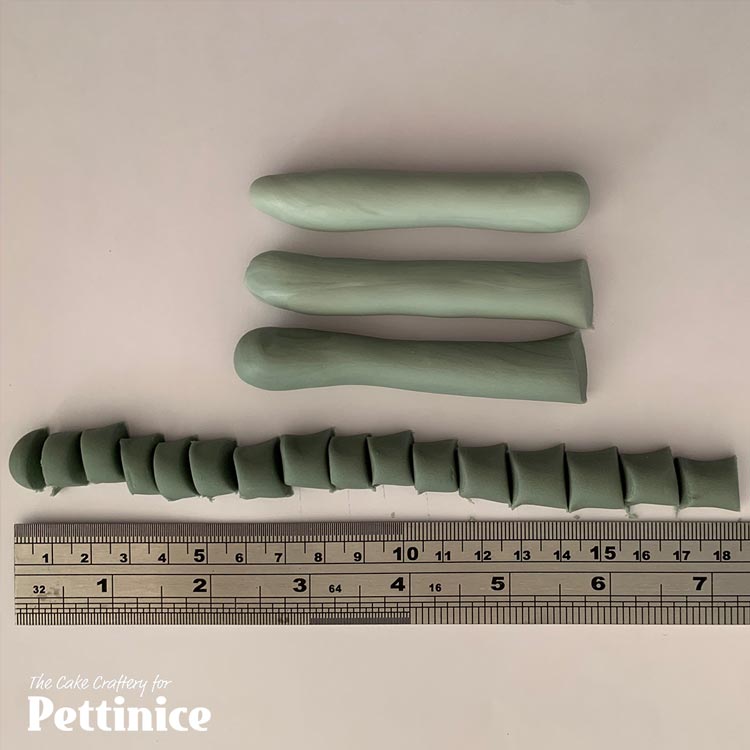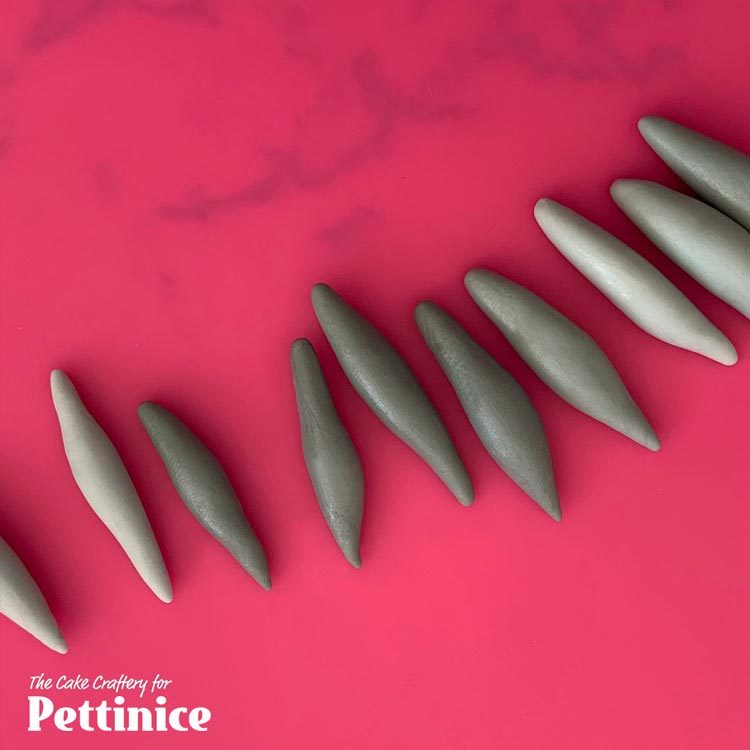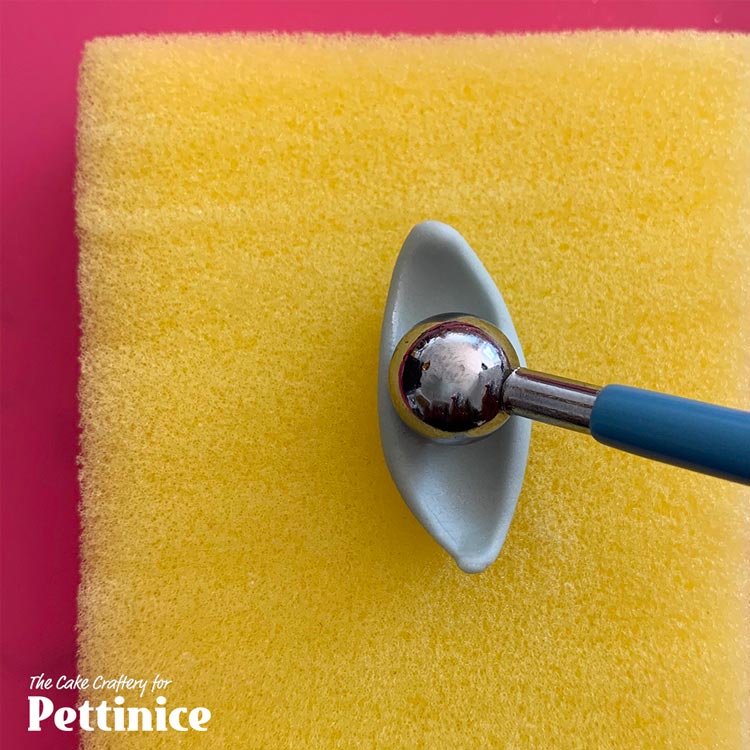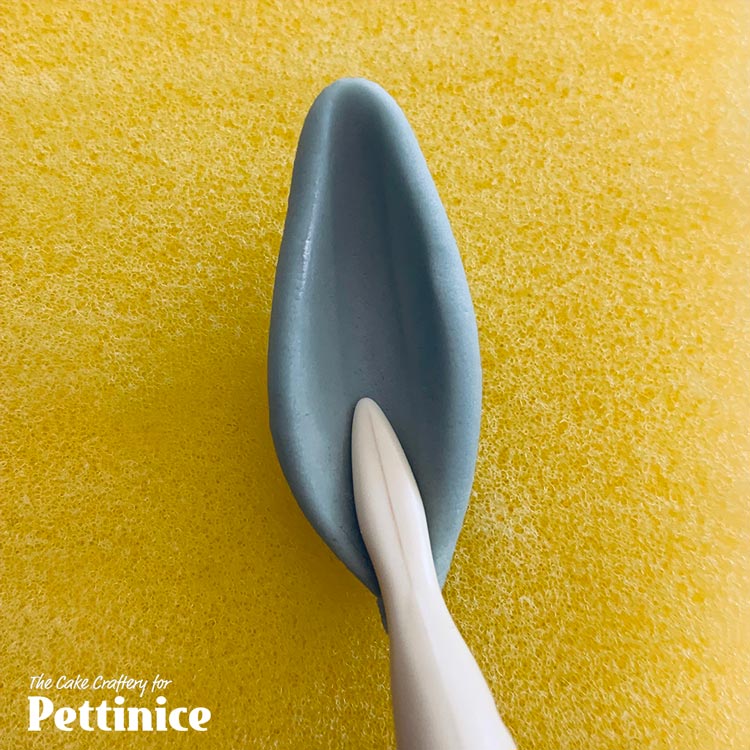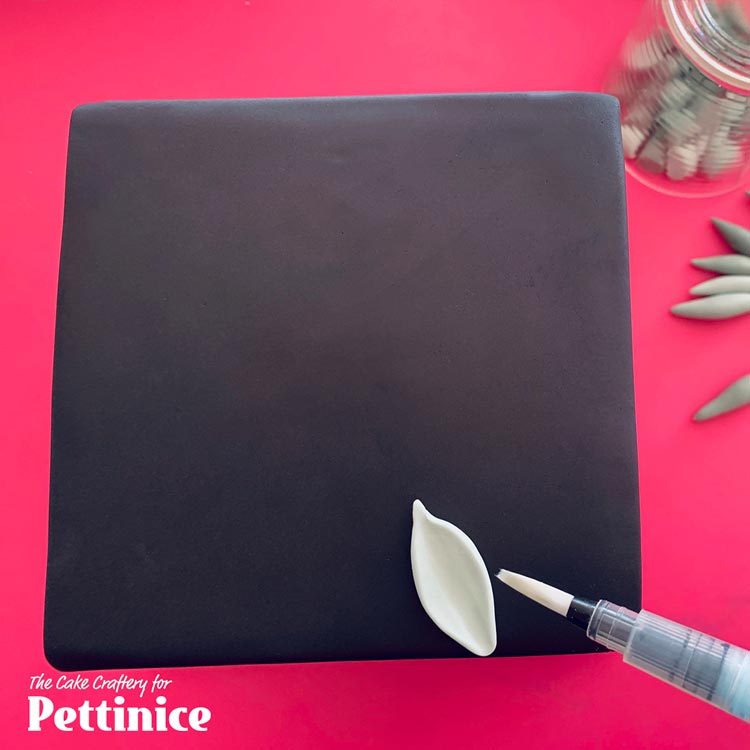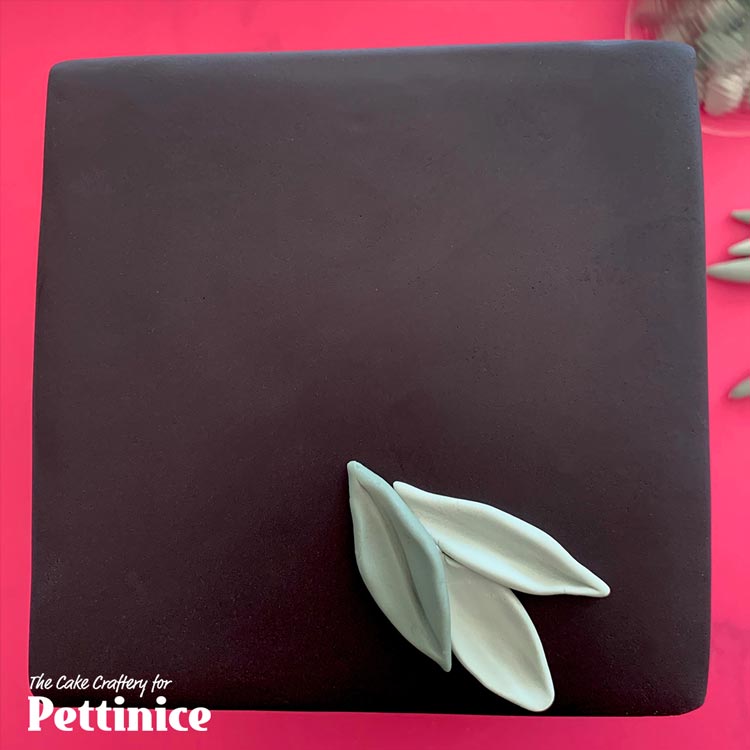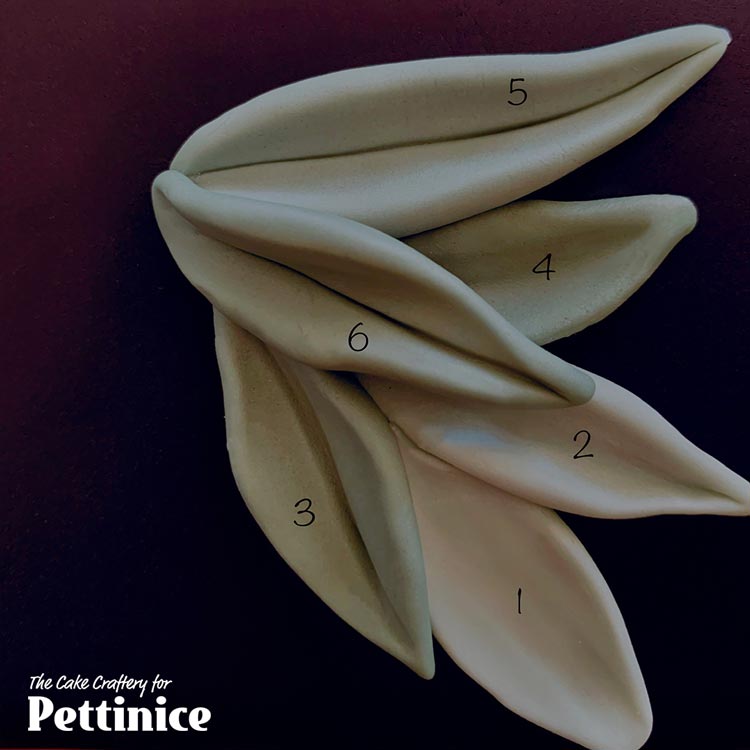 Angle your leaves as though they are coming off a central stem on the cake's surface. Attach with edible glue or a little water. Overlap slightly, working from tip of "stem" down to where the flower is going to be placed.

Large Pink Roses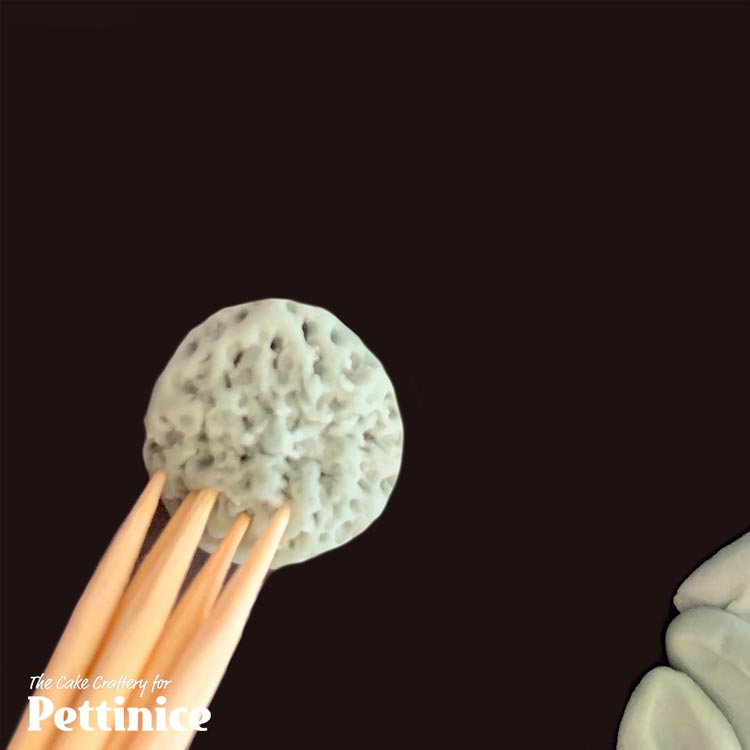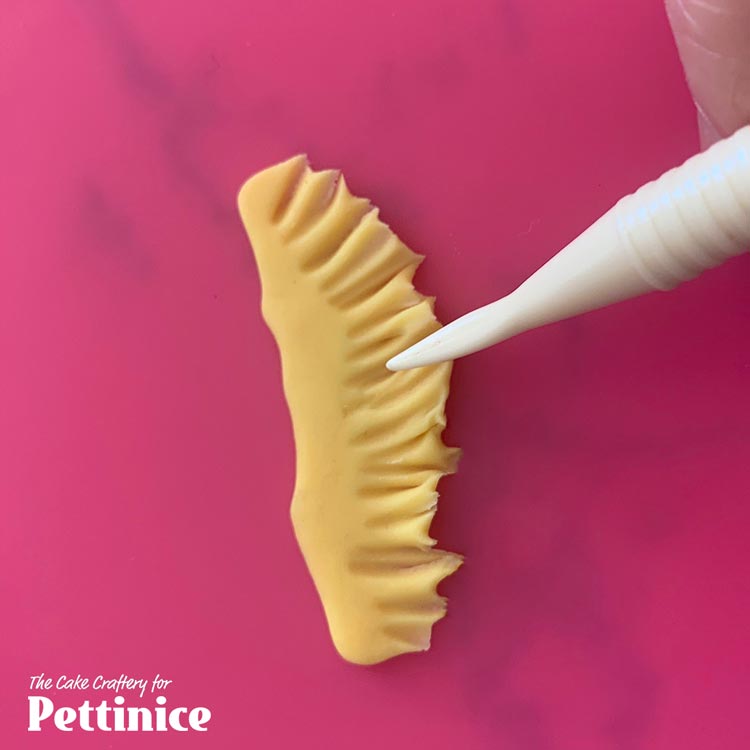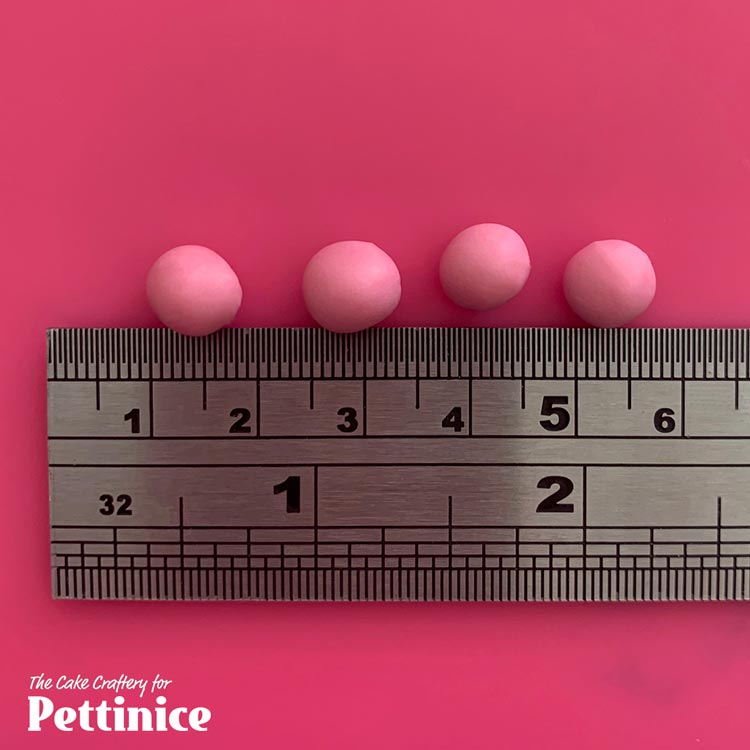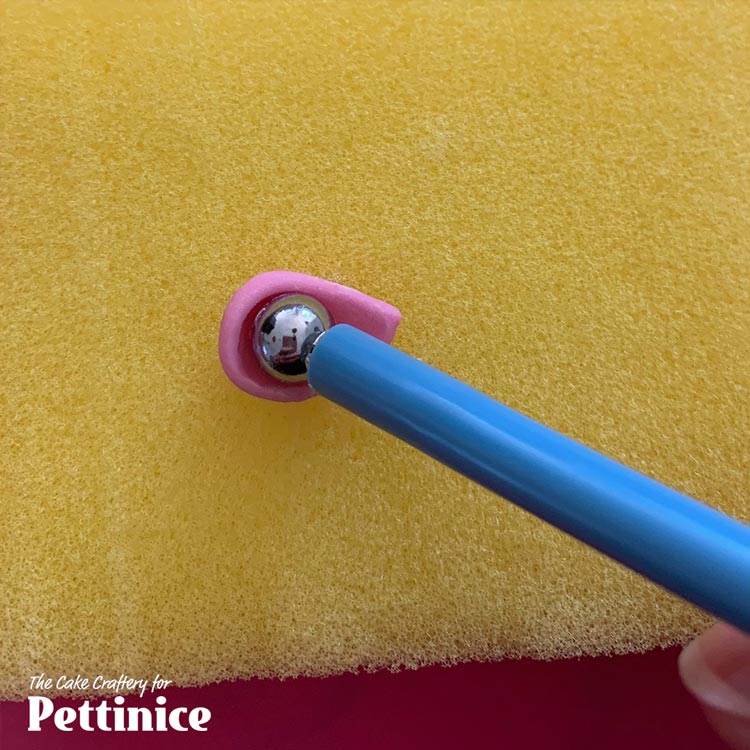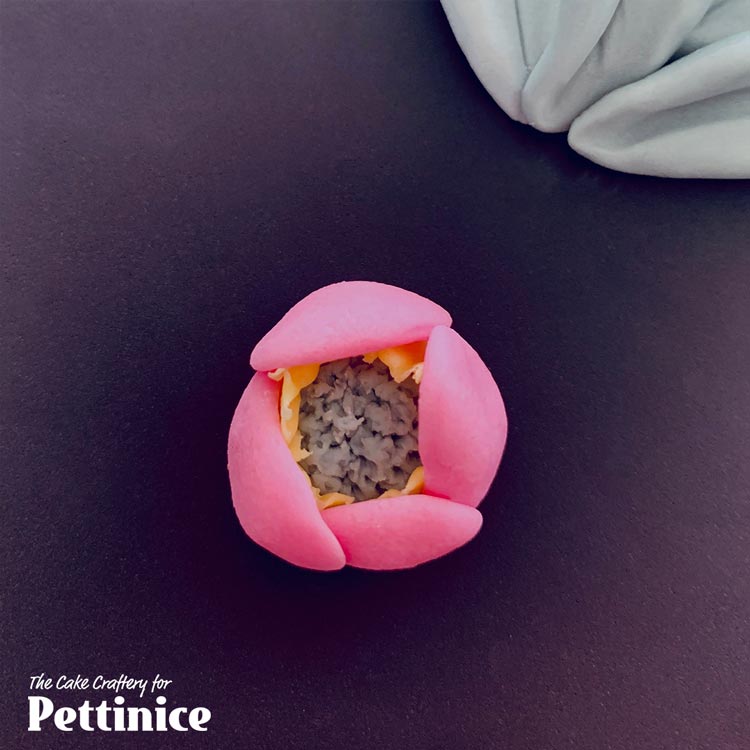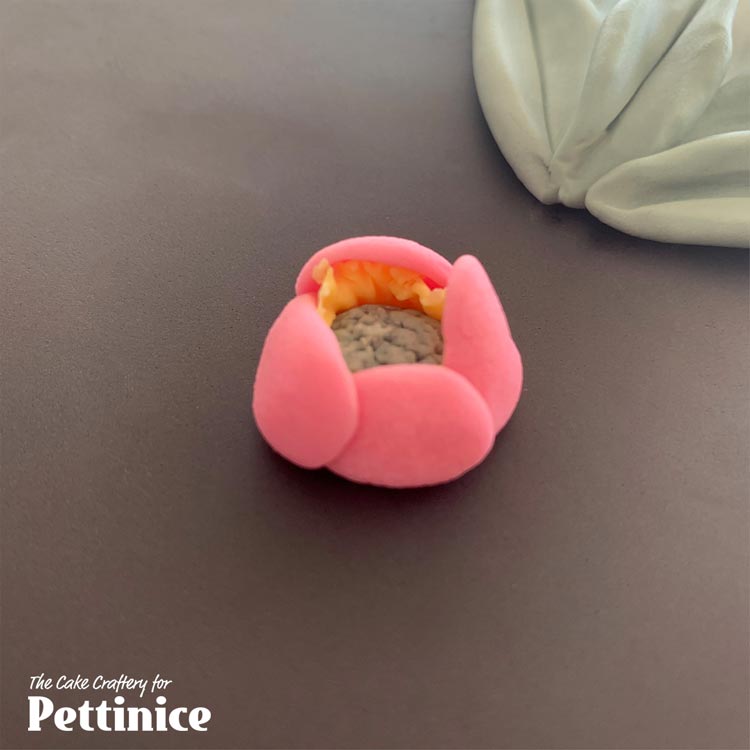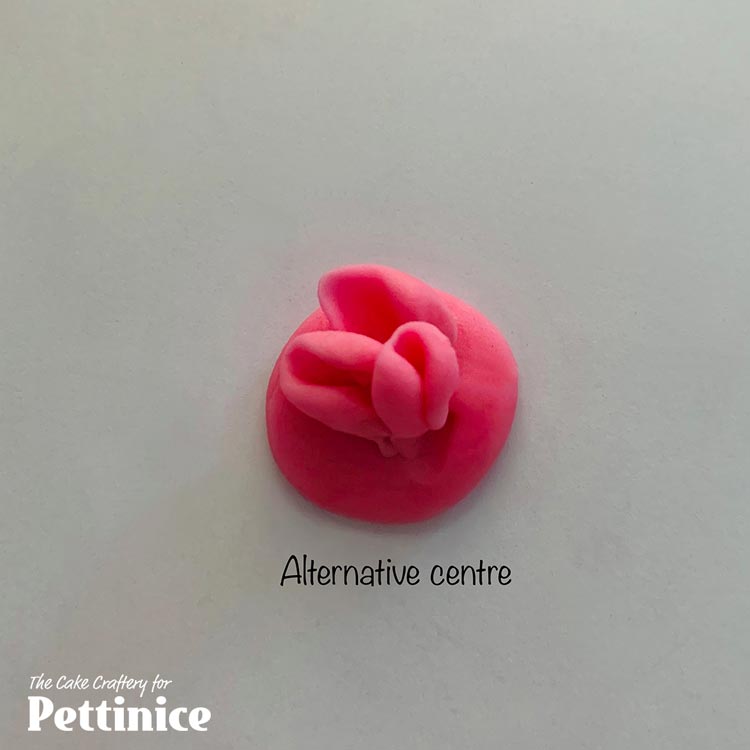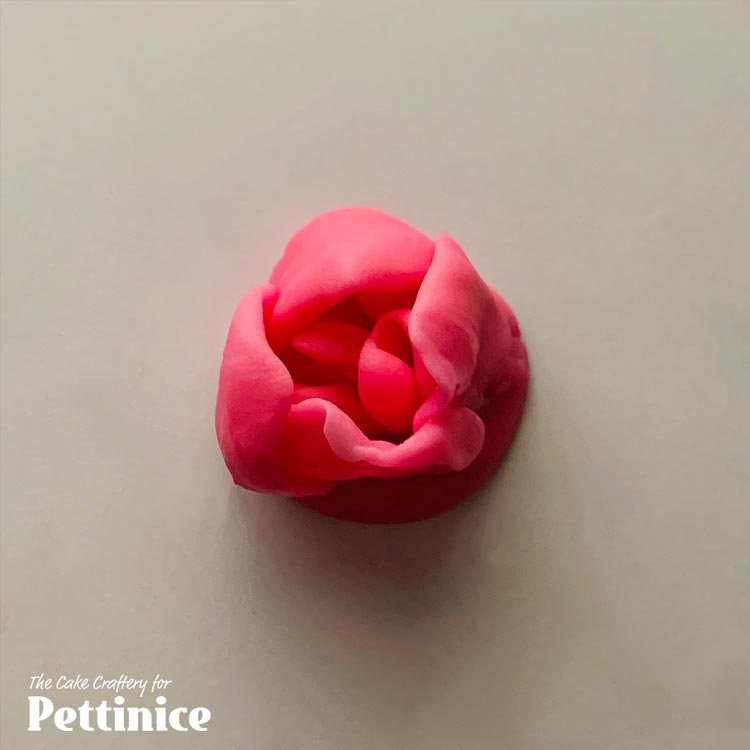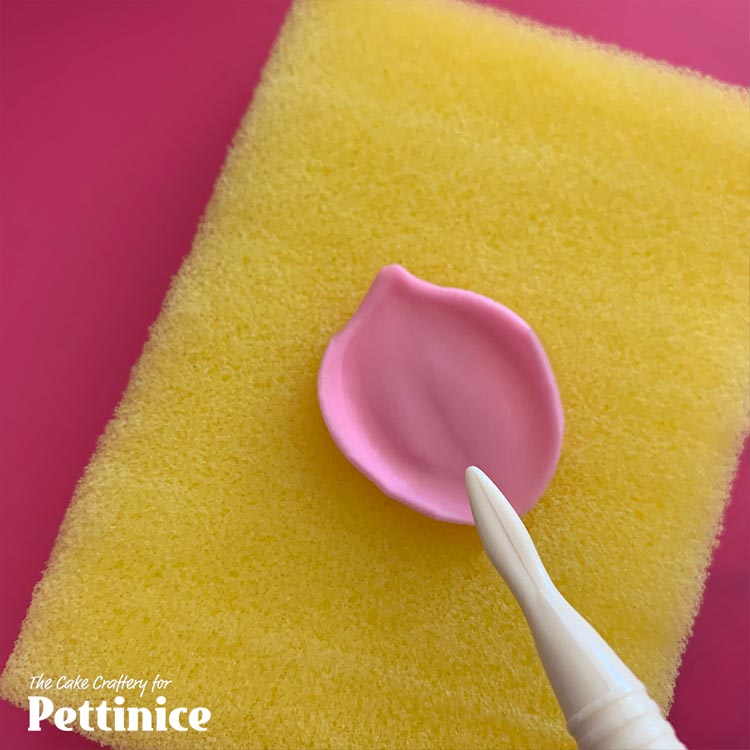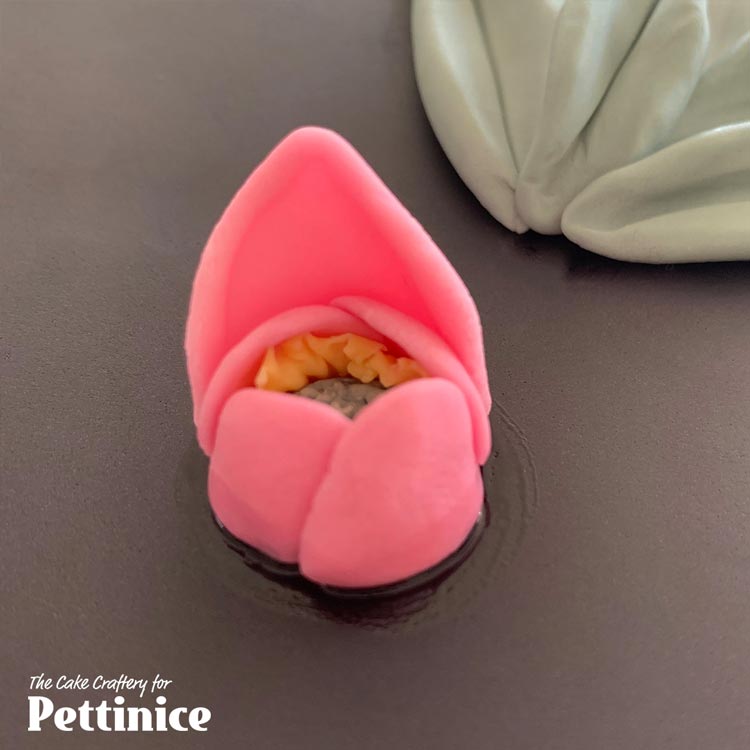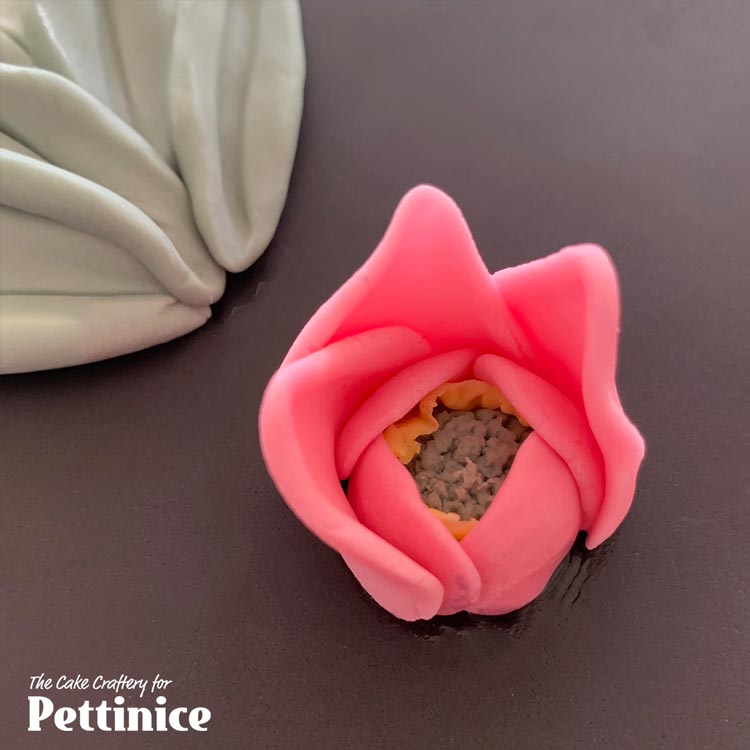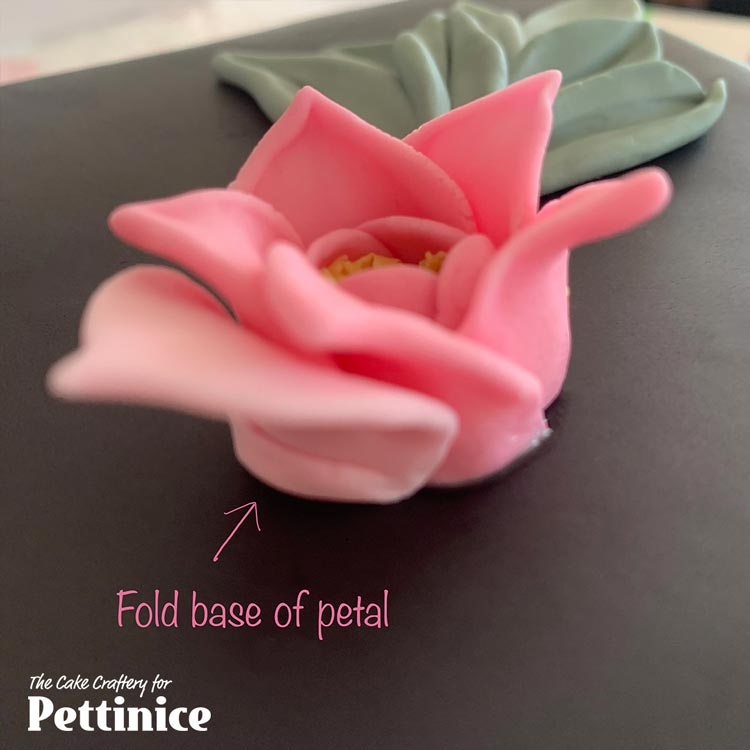 You can stop here for now and later add a few more outer petals if you like, once all the flowers and leaves are arranged on the cake.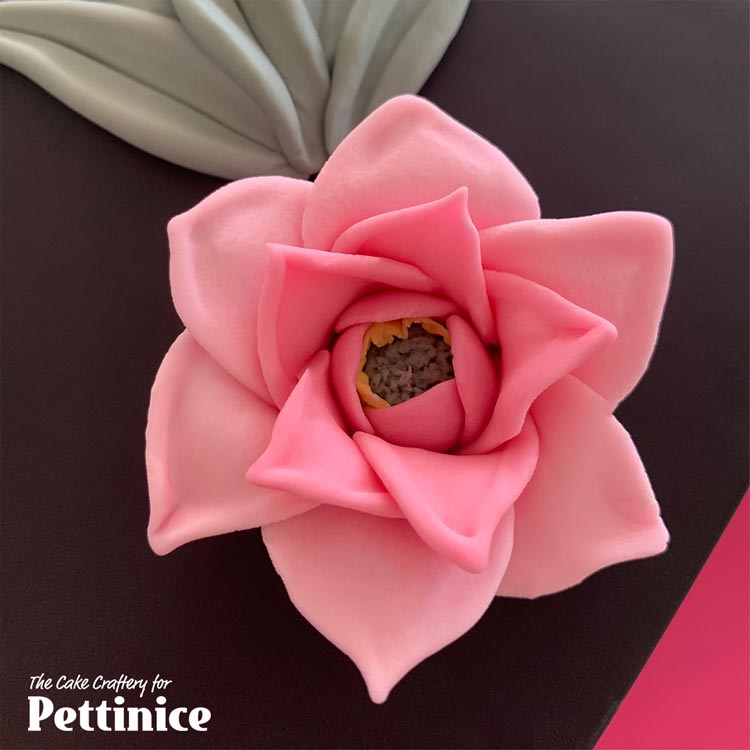 Burgundy Dahlias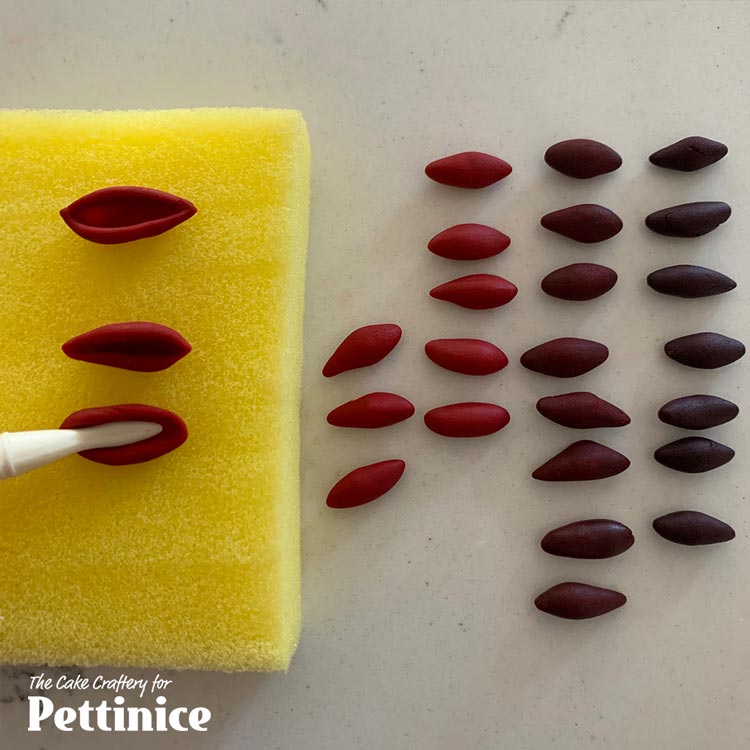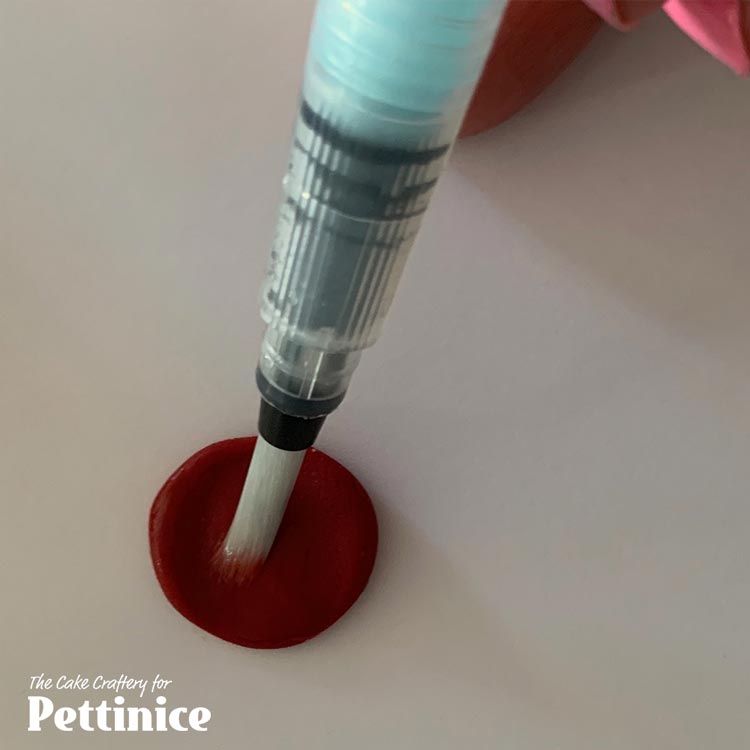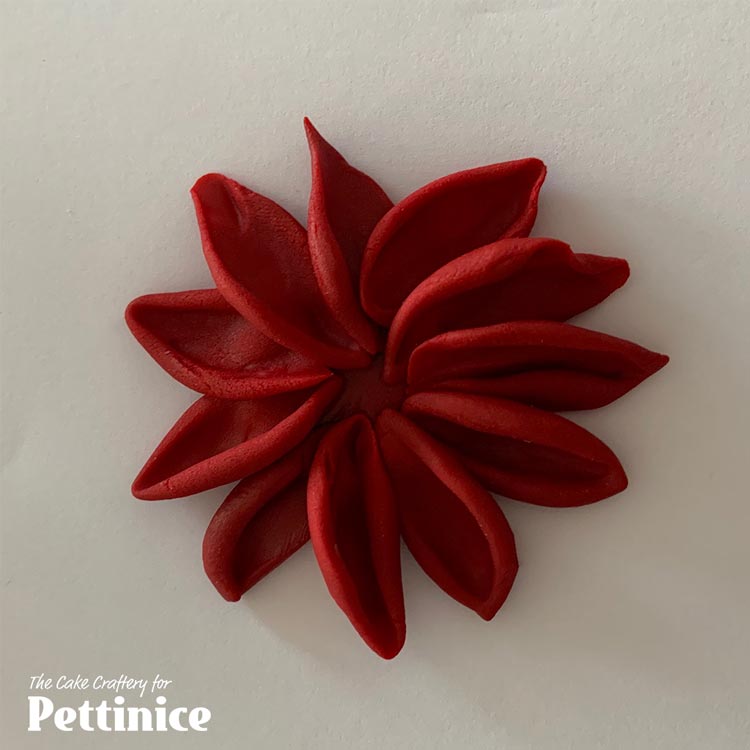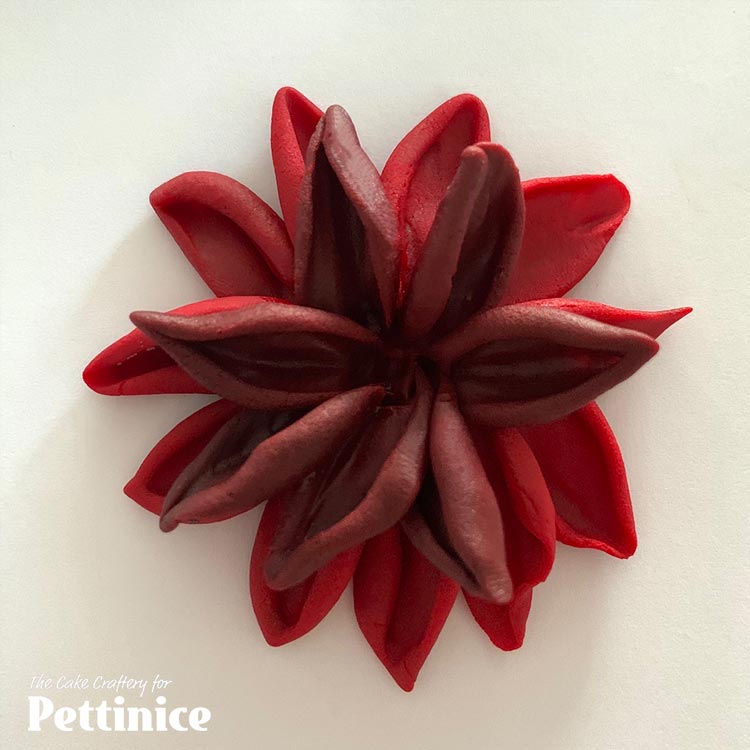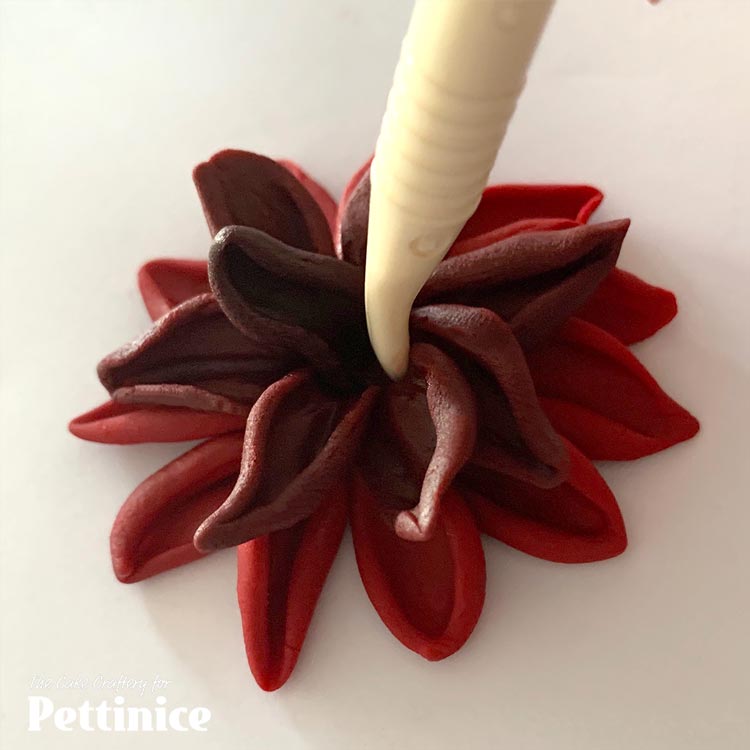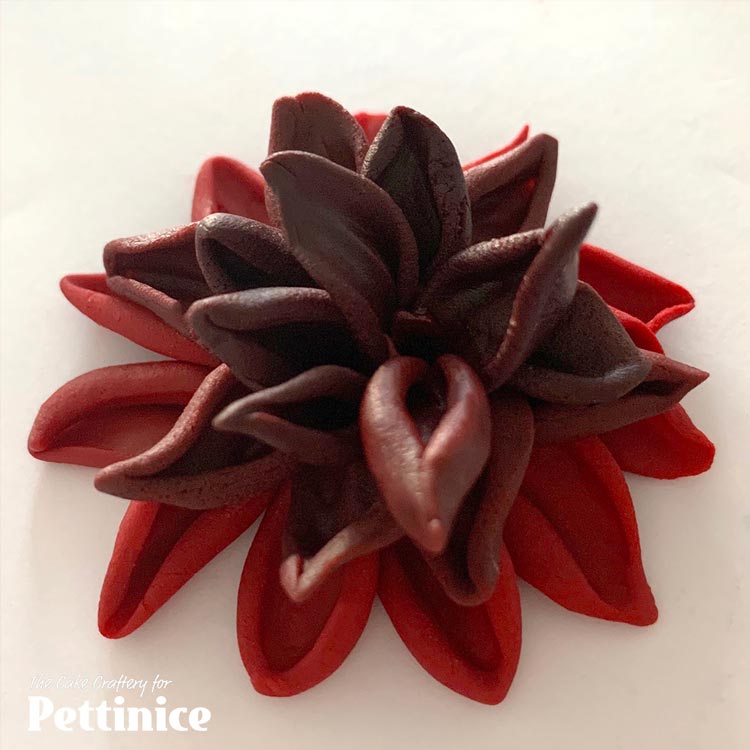 Purple hanging flowers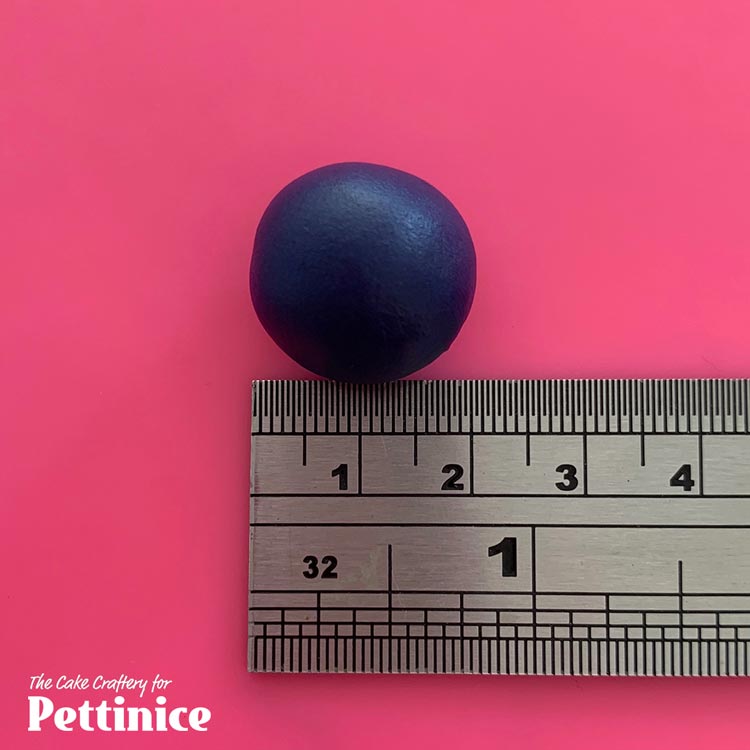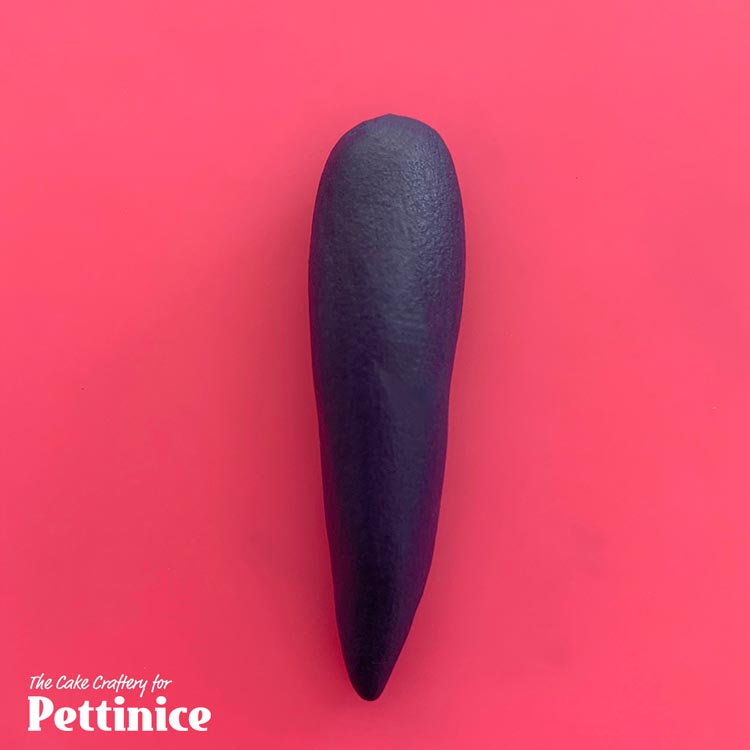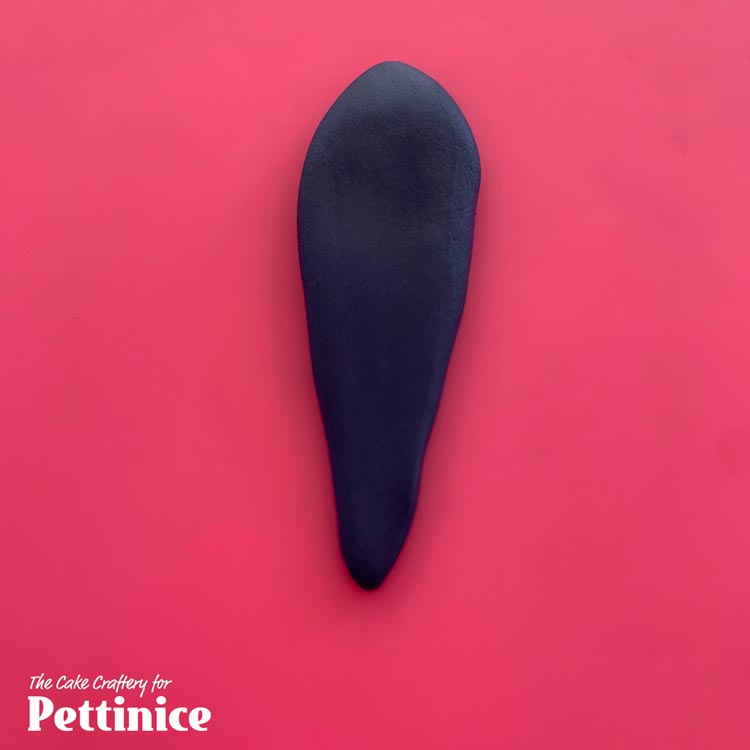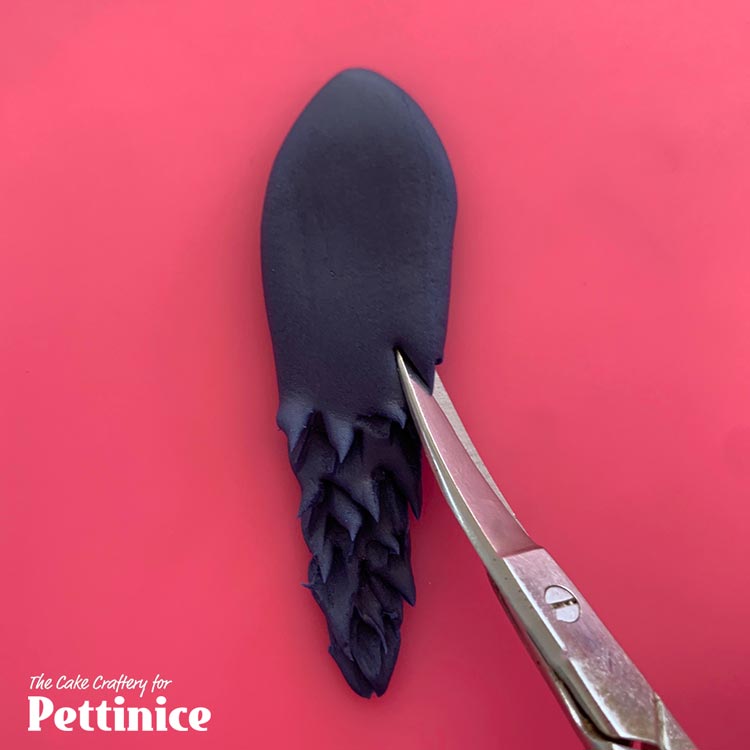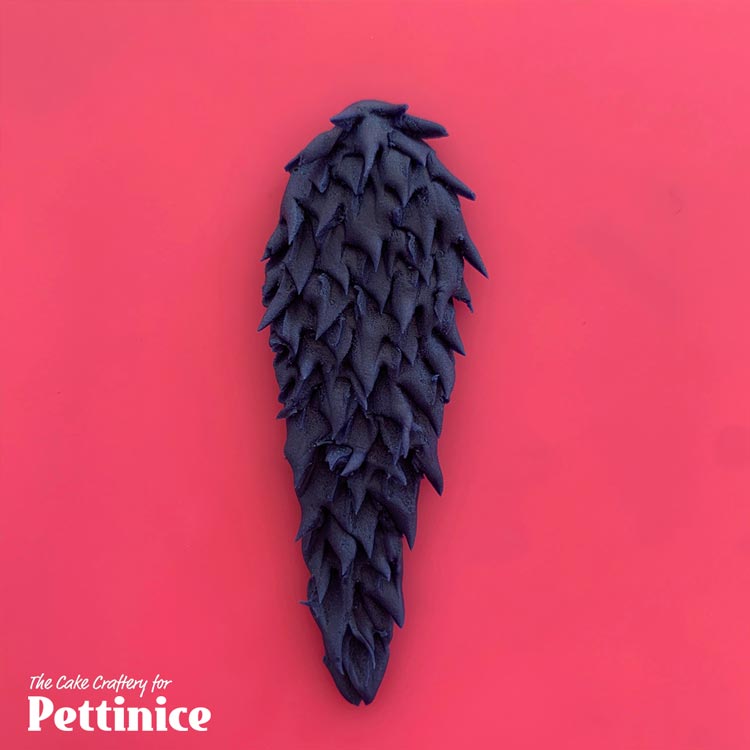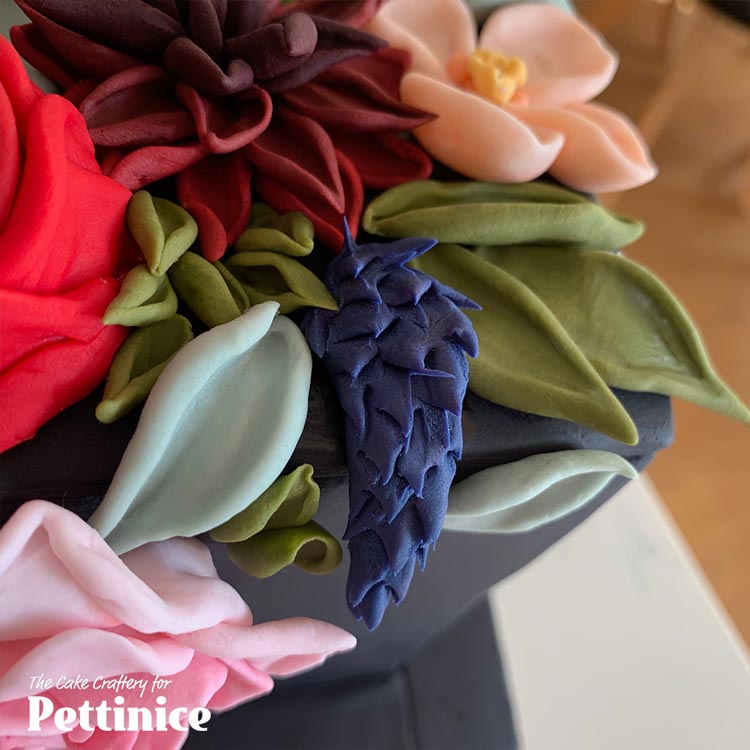 Pale peach 4-petal flowers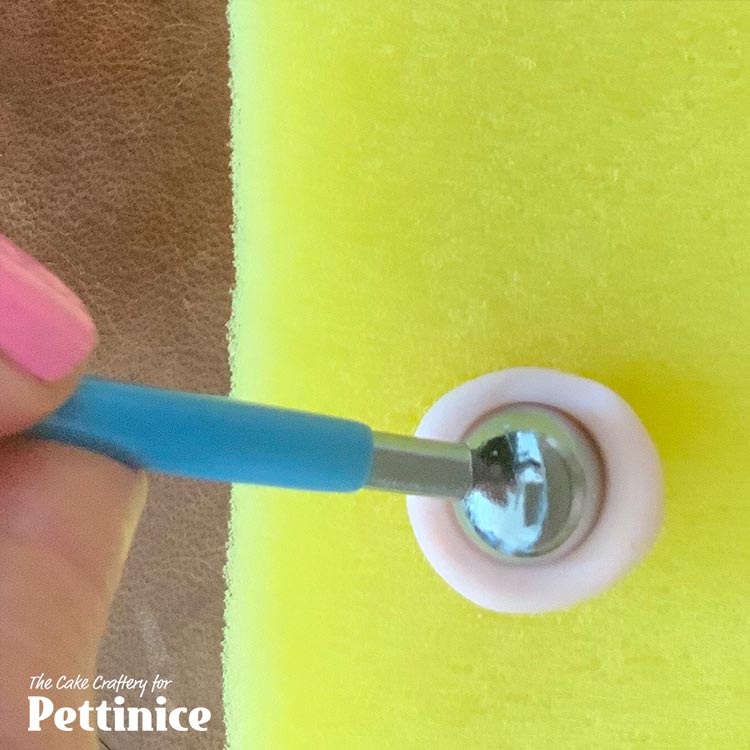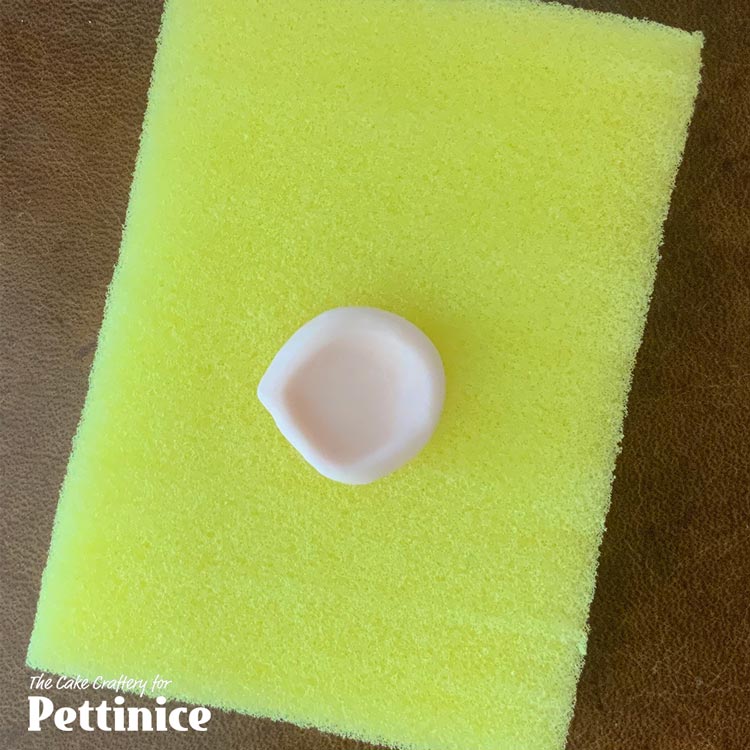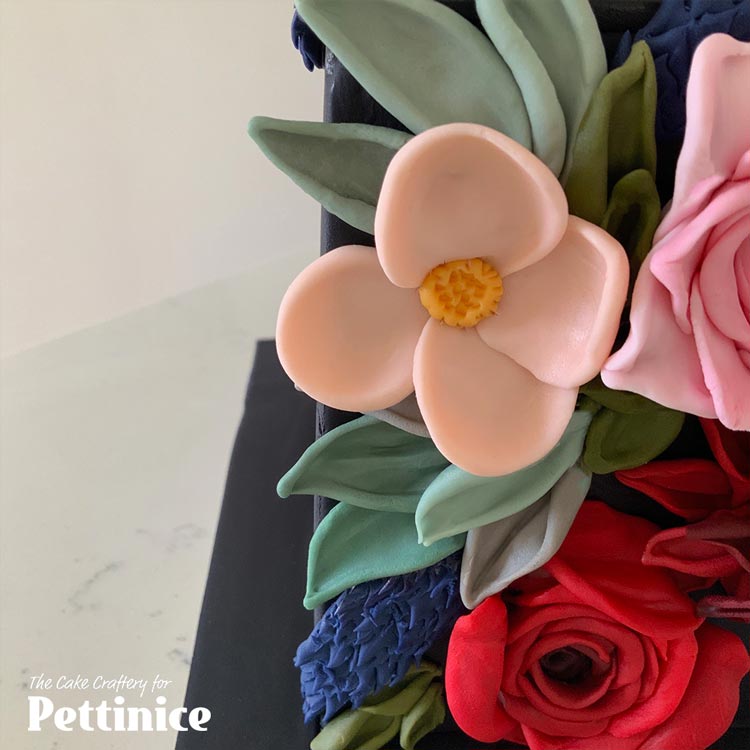 Peach star-shaped double layer flowers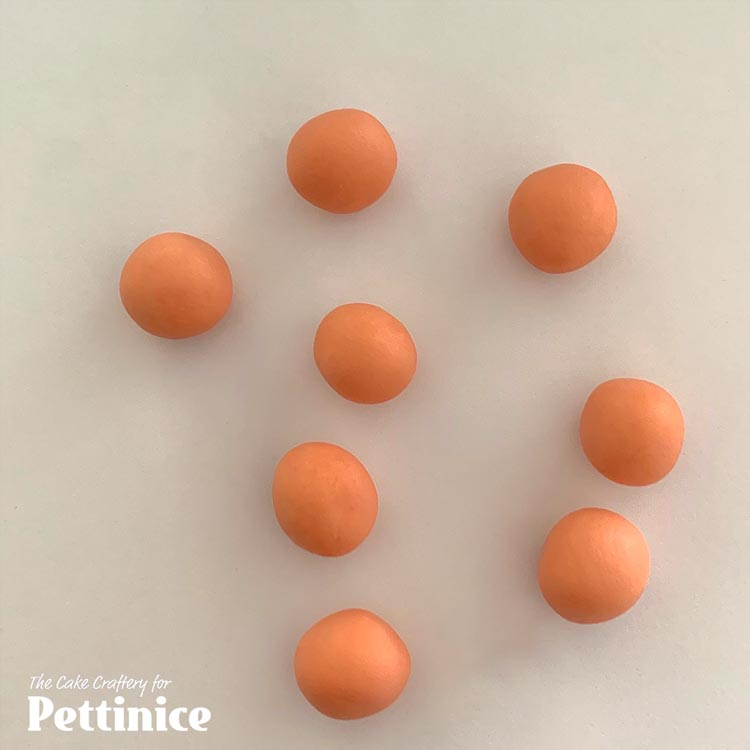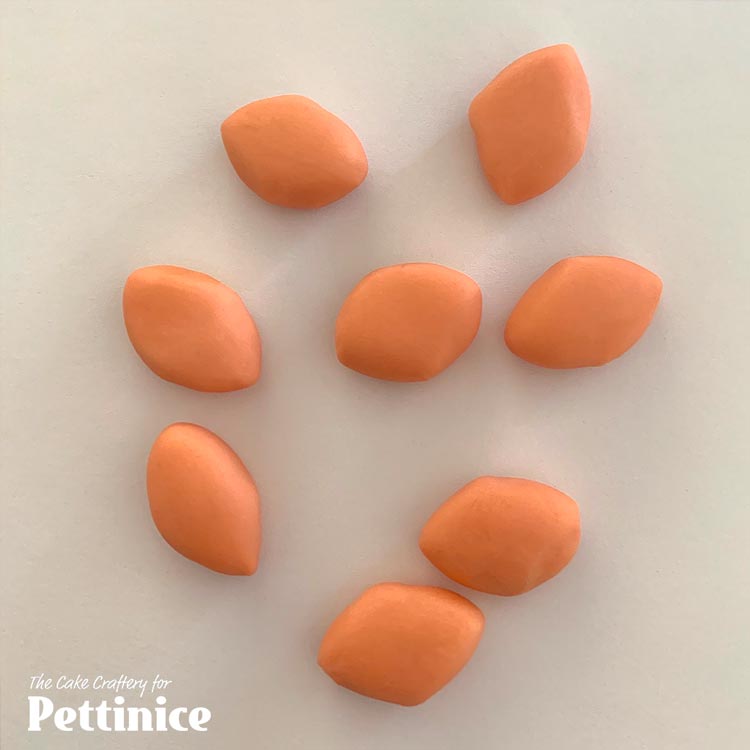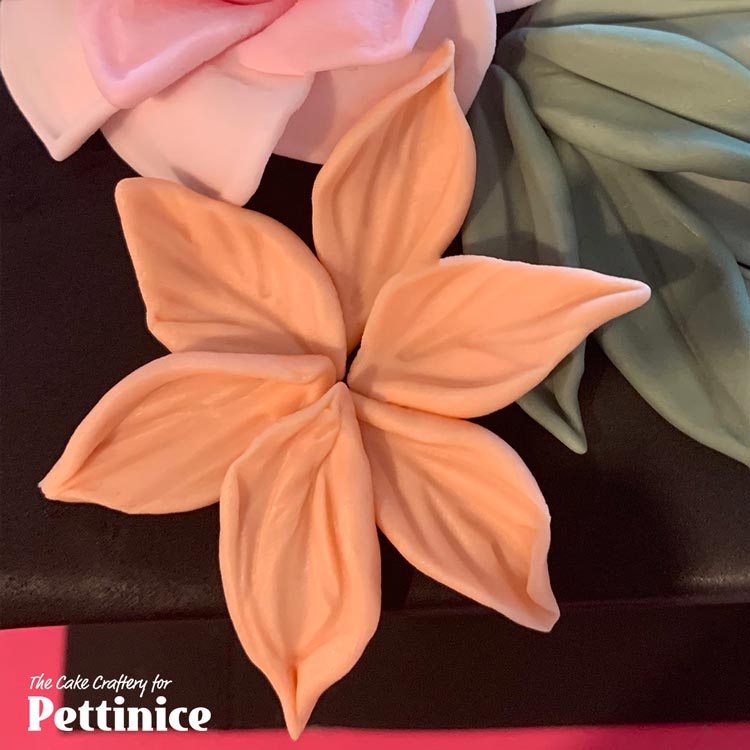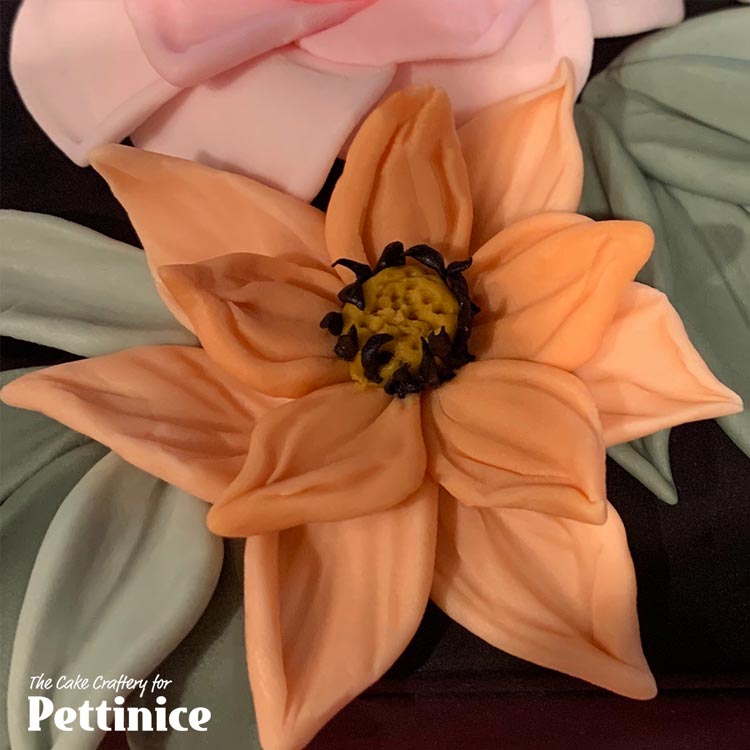 Smaller red roses
These roses have round edged petals, unlike the more triangular petals of the pink roses, for variety.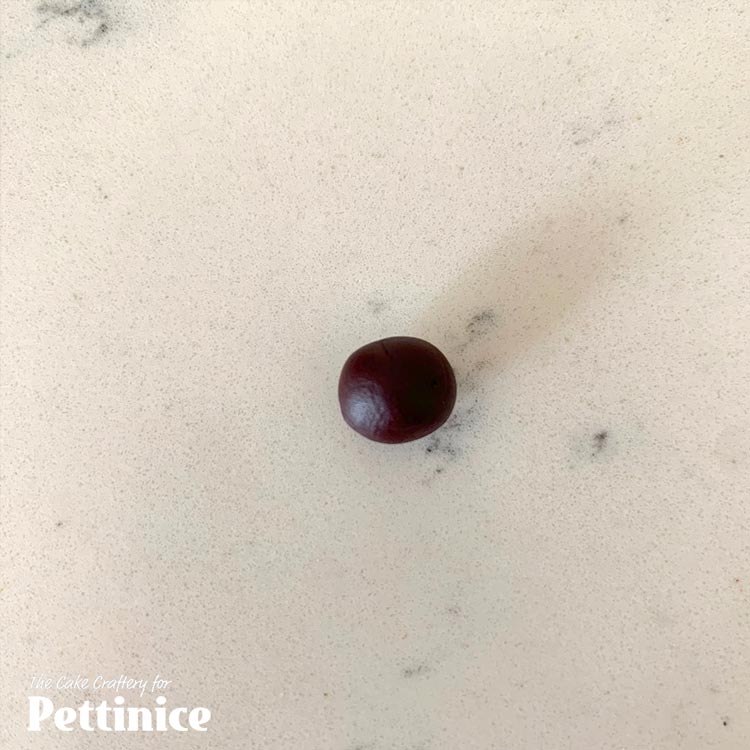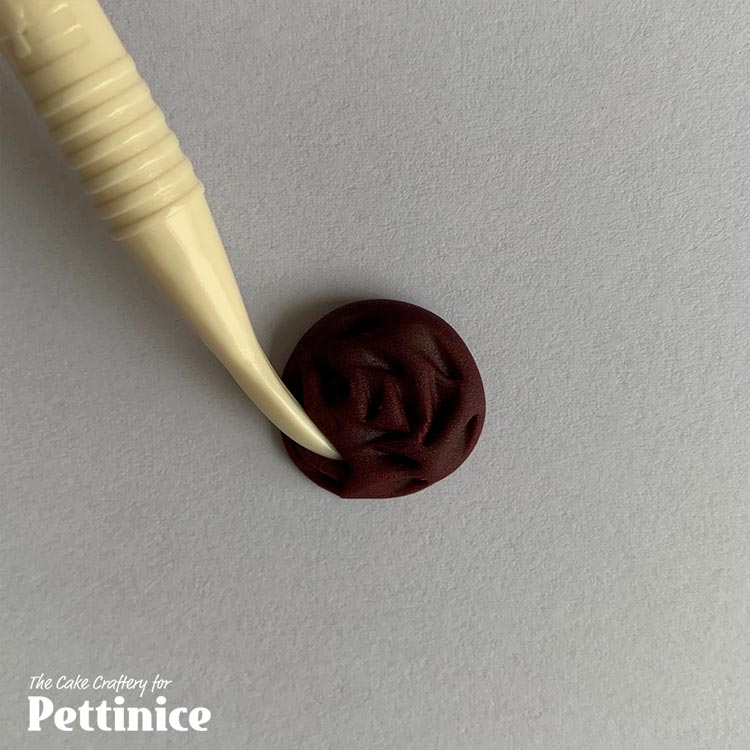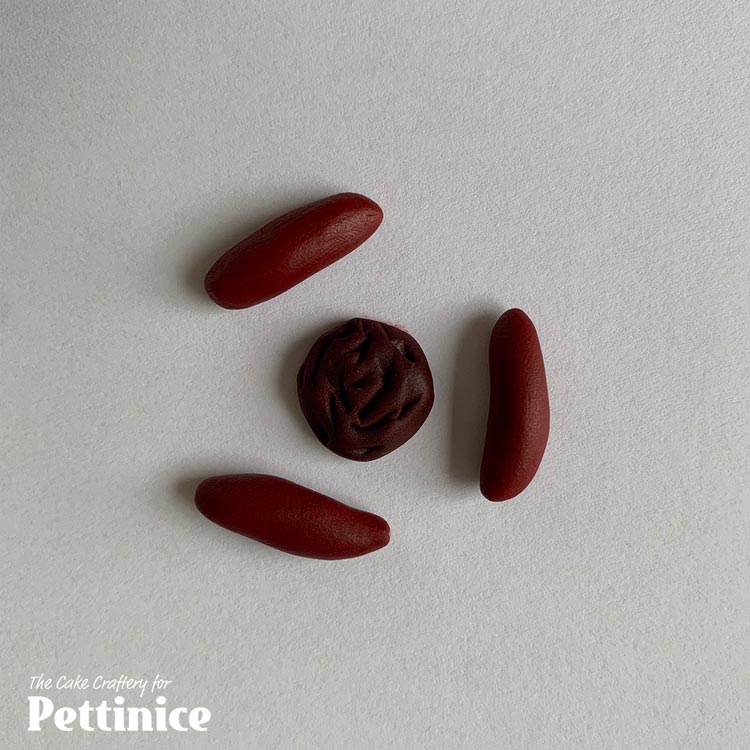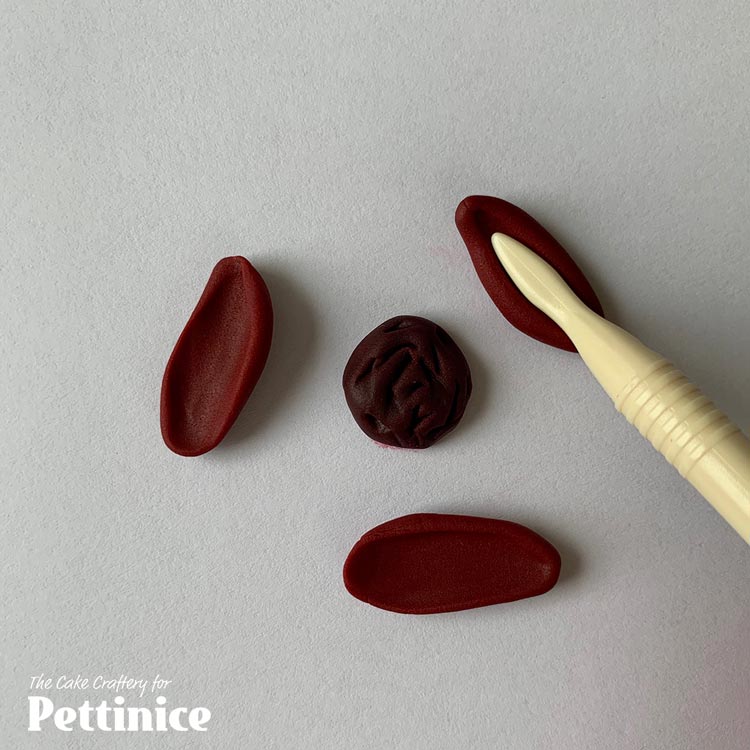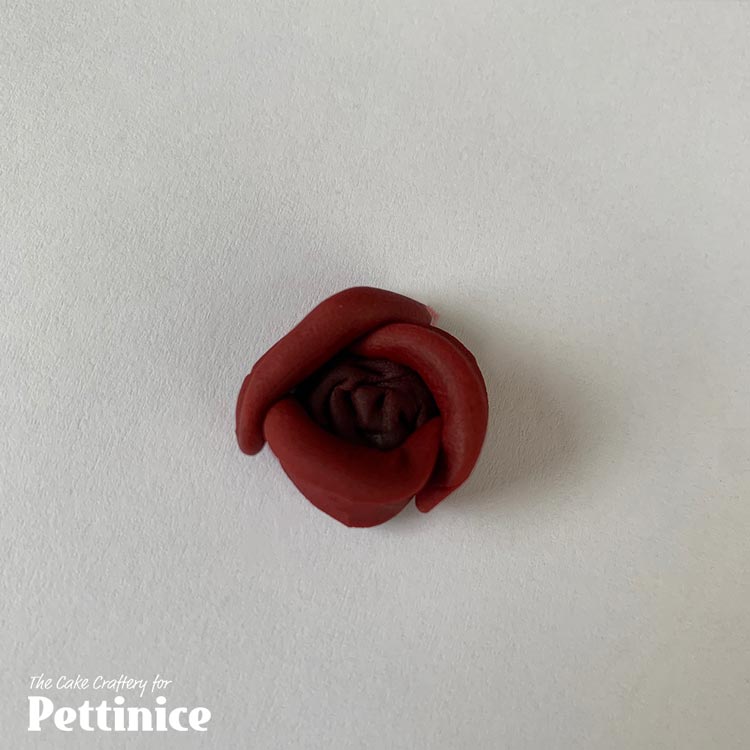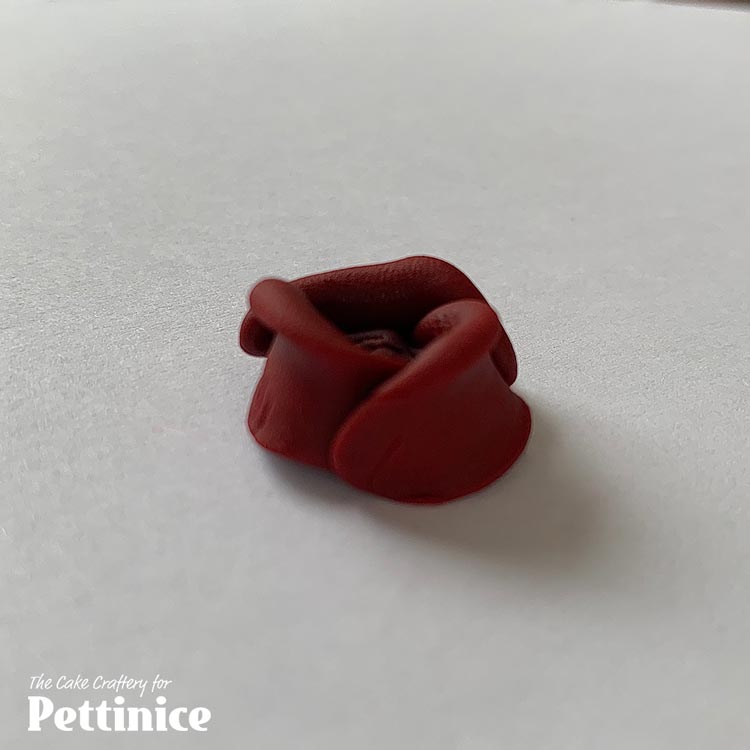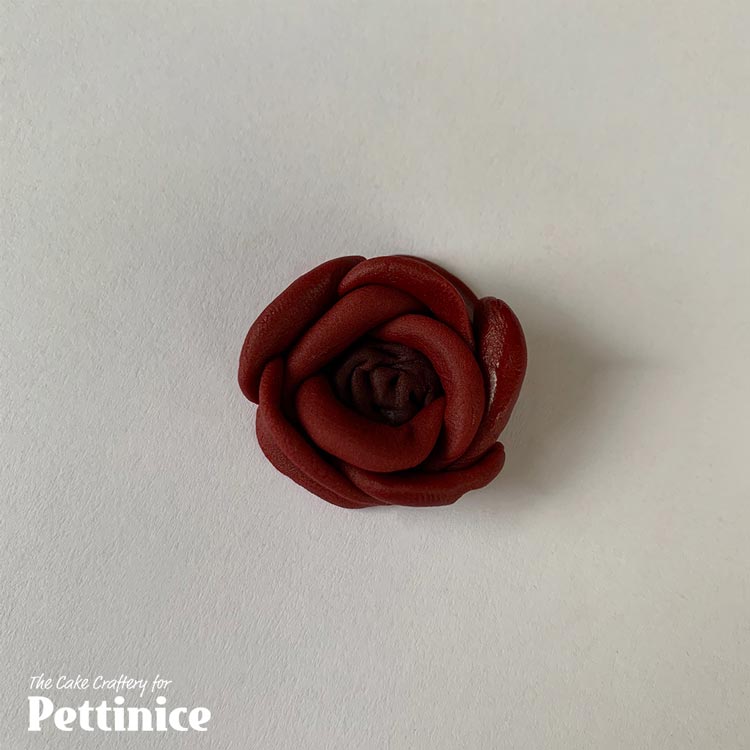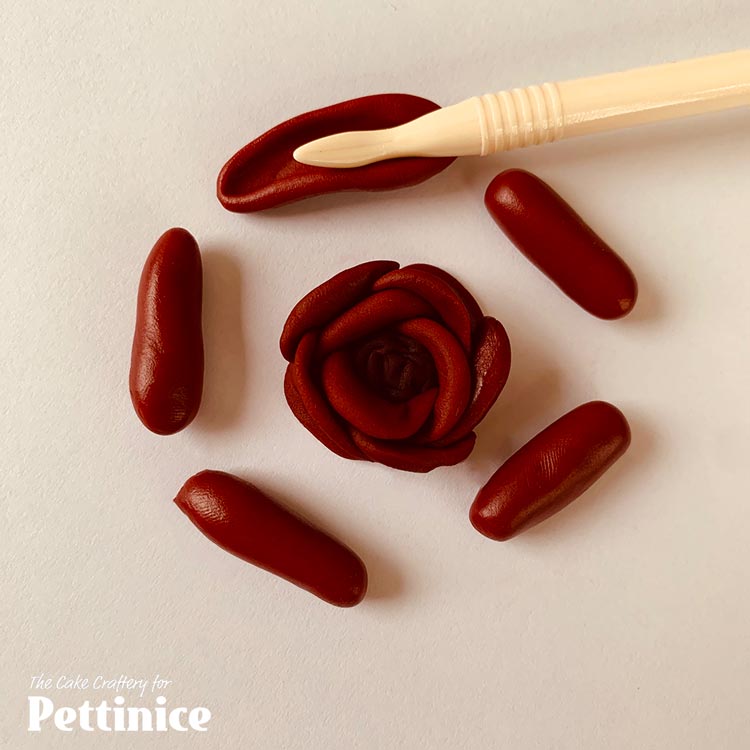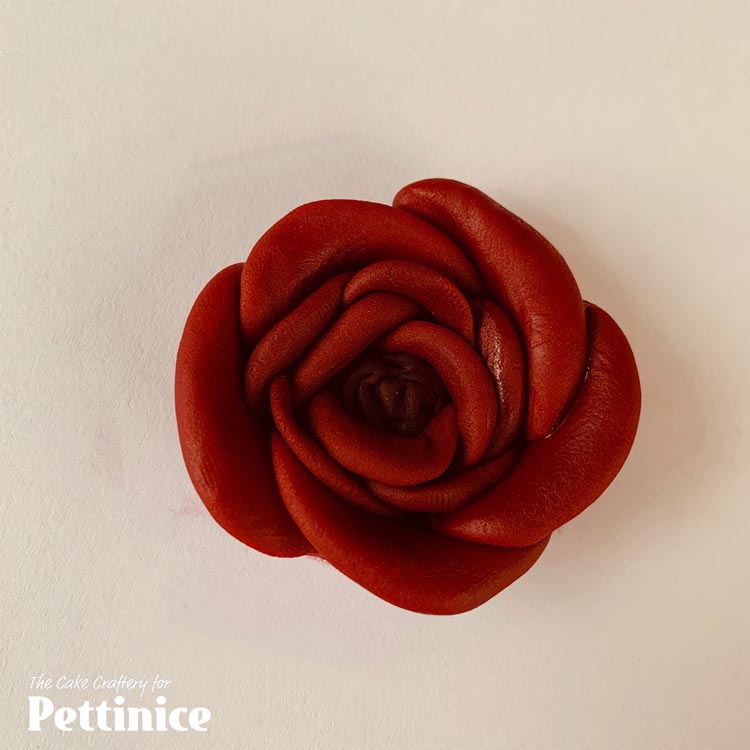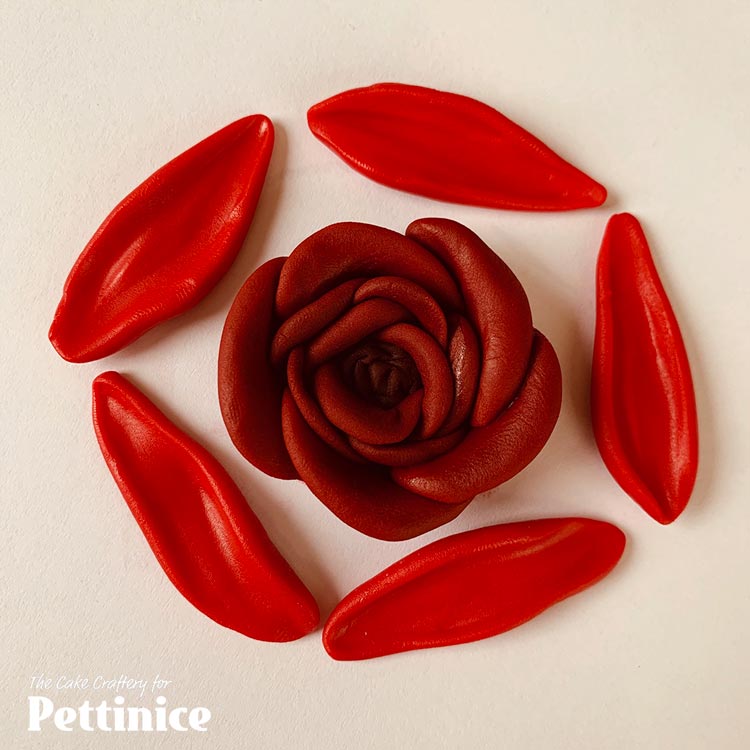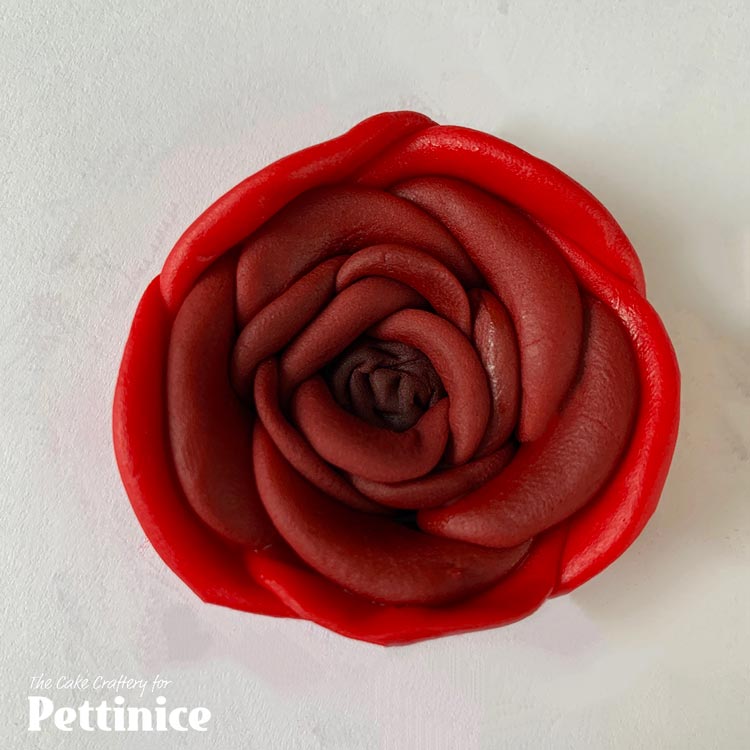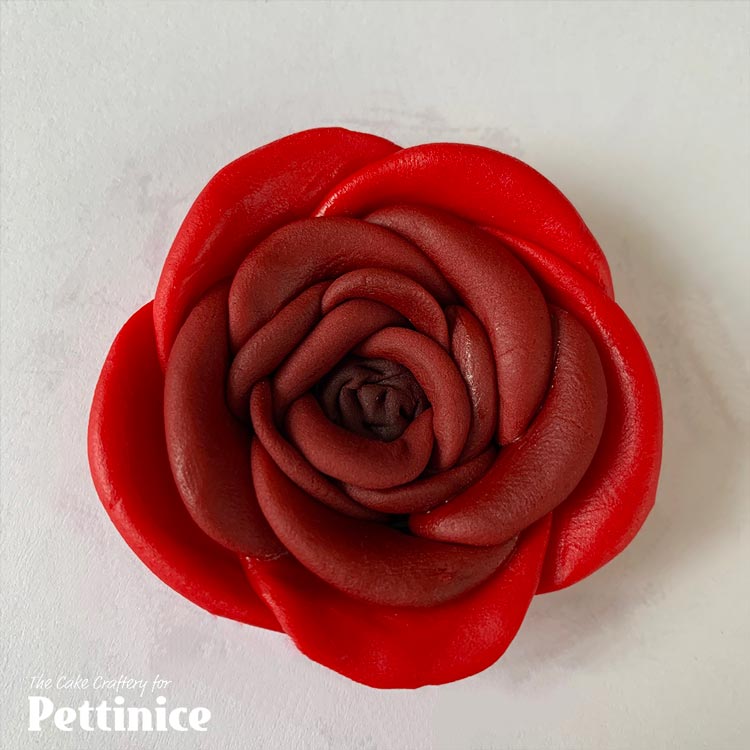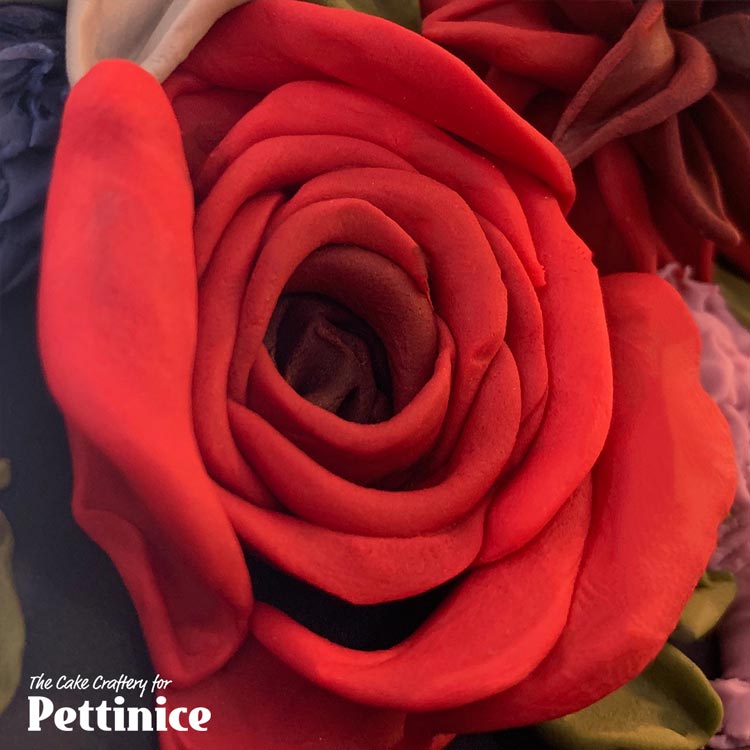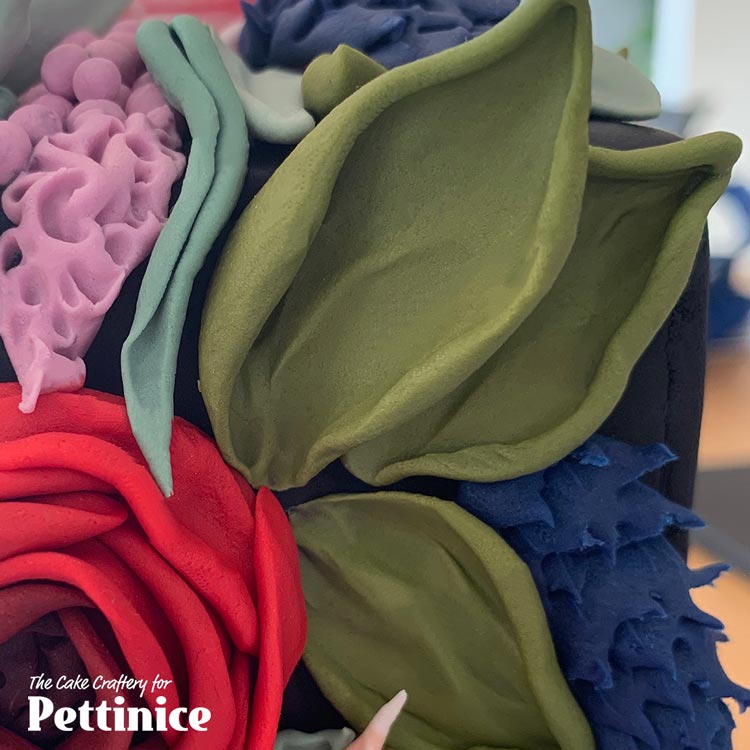 Filler leaves, berry bunches or lilac sprigs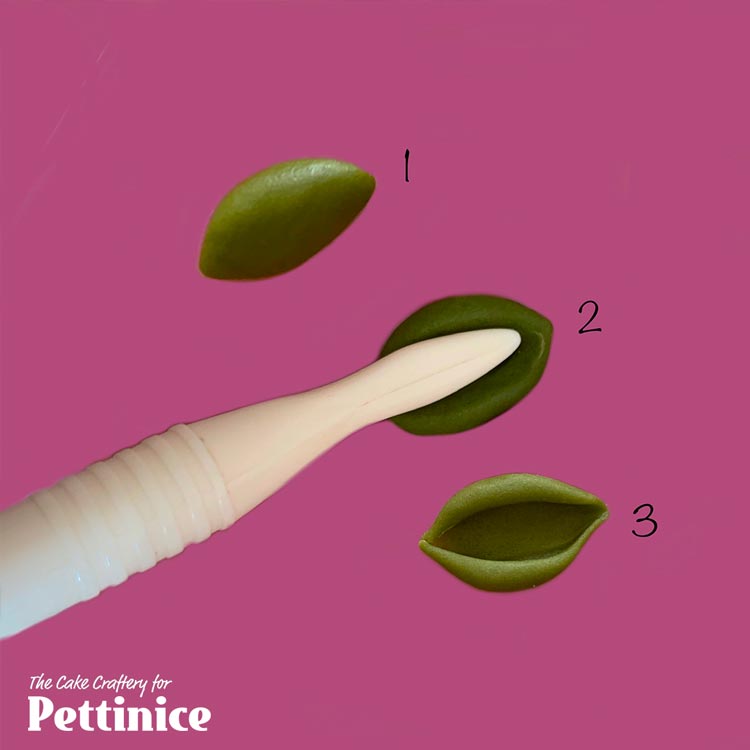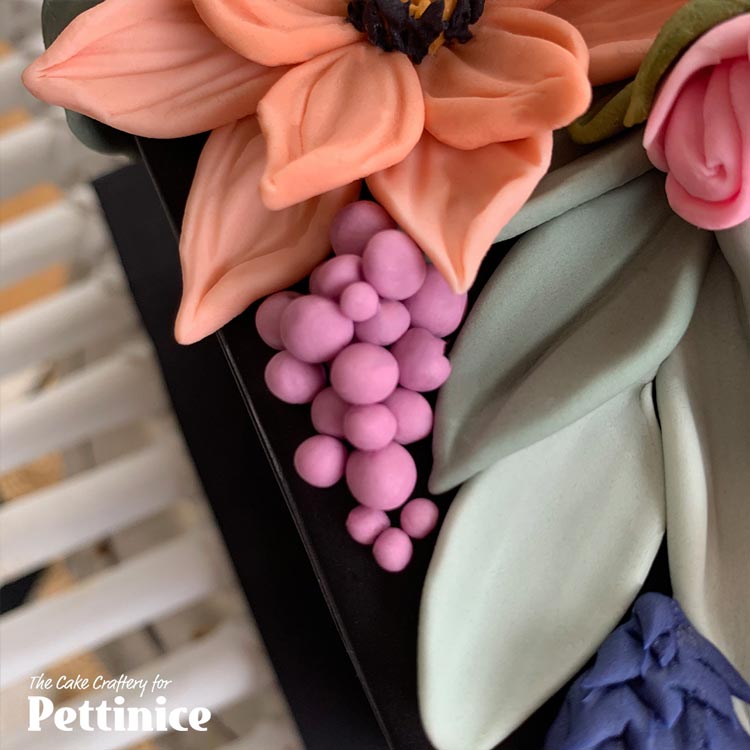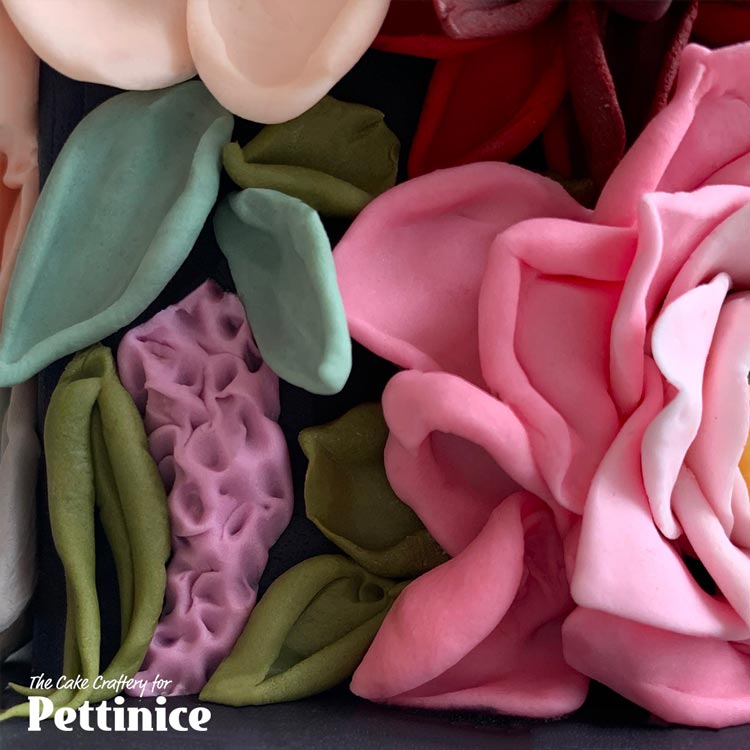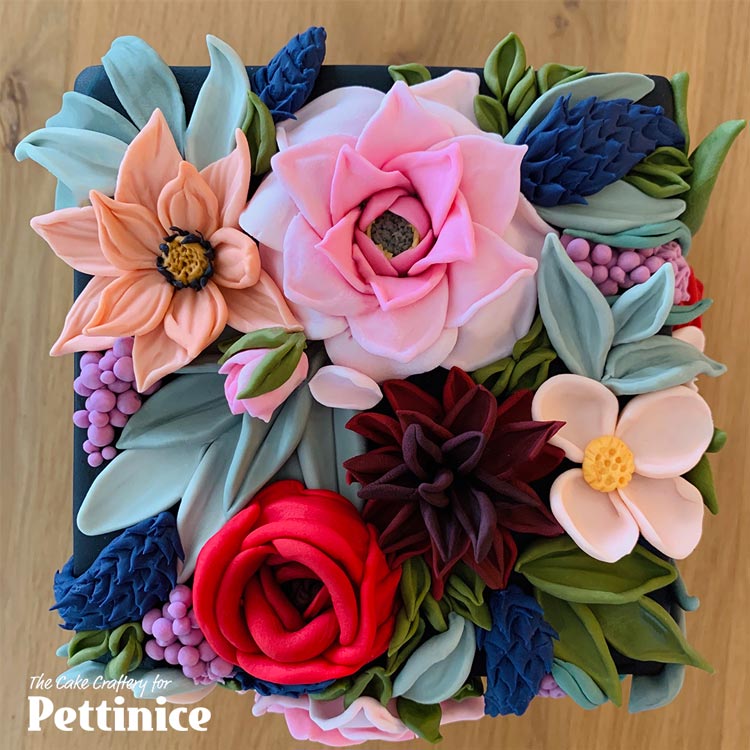 There is no limit to the shapes and colours you can mix up using Pettinice for this type of cake - so enjoy and have some fun with it!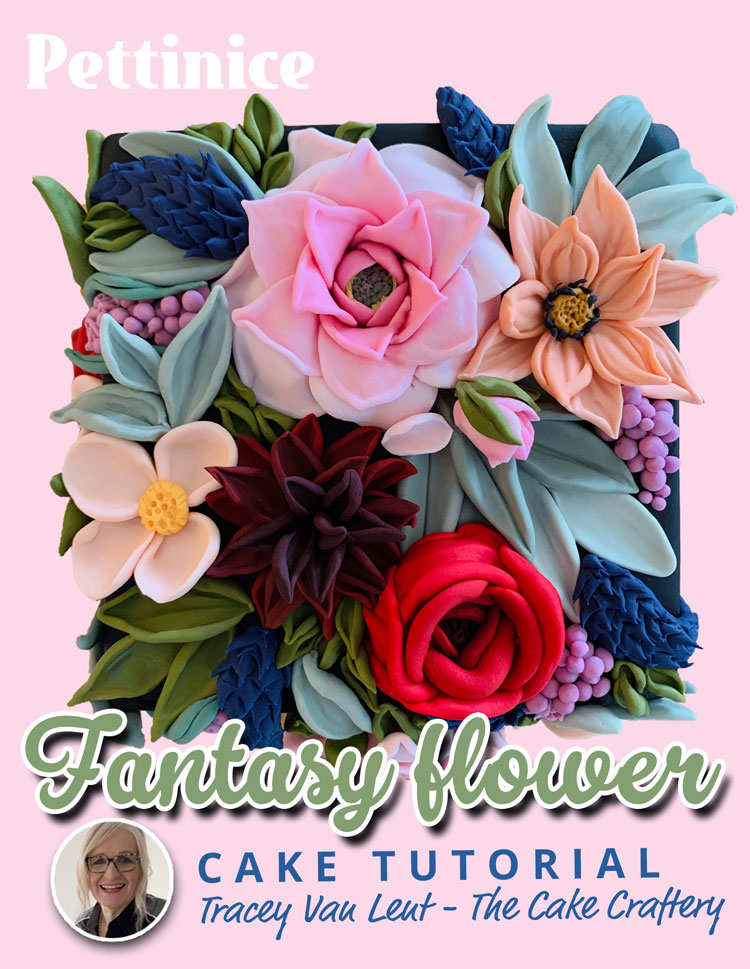 Tracey van Lent owns The Cake Craftery in Riverhead, Auckland. Tracey's background is in art and design and she gained a Bachelor's Degree in Visual Communications when her four children were young. She has been decorating cakes for many years and has taught classes in her local community in North-West Auckland in more recent years.
She loves working with Pettinice in every aspect of her fondant work and particularly likes the unlimited palette of colours that can be produced by just mixing together the colour range. 
See more of Tracey's cakes at 

Want to see more cake tutorials?