Pettinice Product Information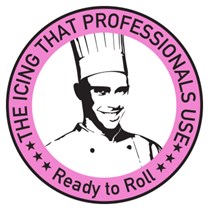 There's no limit to what you can create with Bakels Pettinice ready to roll coloured icing. Cake decorating professionals and enthusiasts worldwide are creating extraordinary celebration cakes and high end confectionary using our high quality Pettinice fondant.
The range is made up of twelve colours, including our traditional colours; Ivory, White, Chocolate and Almond and includes a full range of vibrant modern colours; Yellow, Orange, Green, Pink, Red, Purple, Blue and Black. Create your own personal colours from an infinite number of possibilities with easy blending of the consistent Pettinice colour range.  
Available across five continents and in more than 130 countries Pettinice is trusted all over the world to deliver a professional look to your cake decorating inspiration.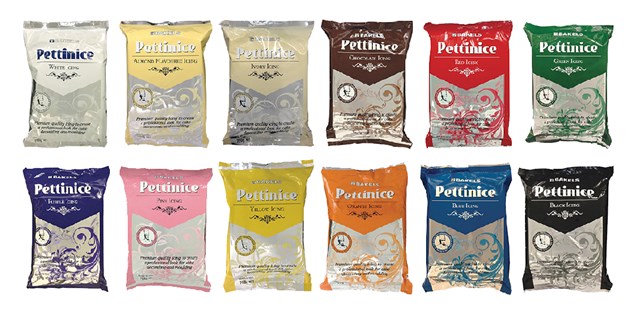 If you are already a successful Pettinice user – thank you for your confidence and trust…and if you are new to Pettinice, welcome to the family.
Instructions for use
 Remove icing from foil and knead on a clean flat surface dusted with icing sugar or cornflour.
Roll out to desired thickness.
Brush cake with a sugar syrup or apricot jam thinned with boiling water.
Place rolled icing on the cake and smooth down gently.
Trim edges to finish.
Looking for more detailed information?   View our Tutorials page for more ways to use Pettinice icing!
Also see our colour mixes made by Nina.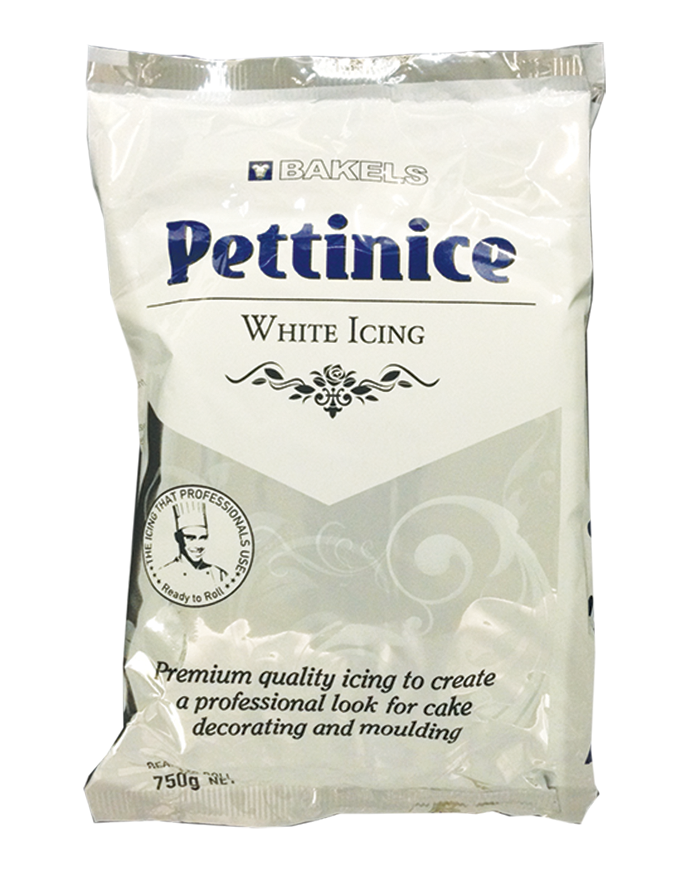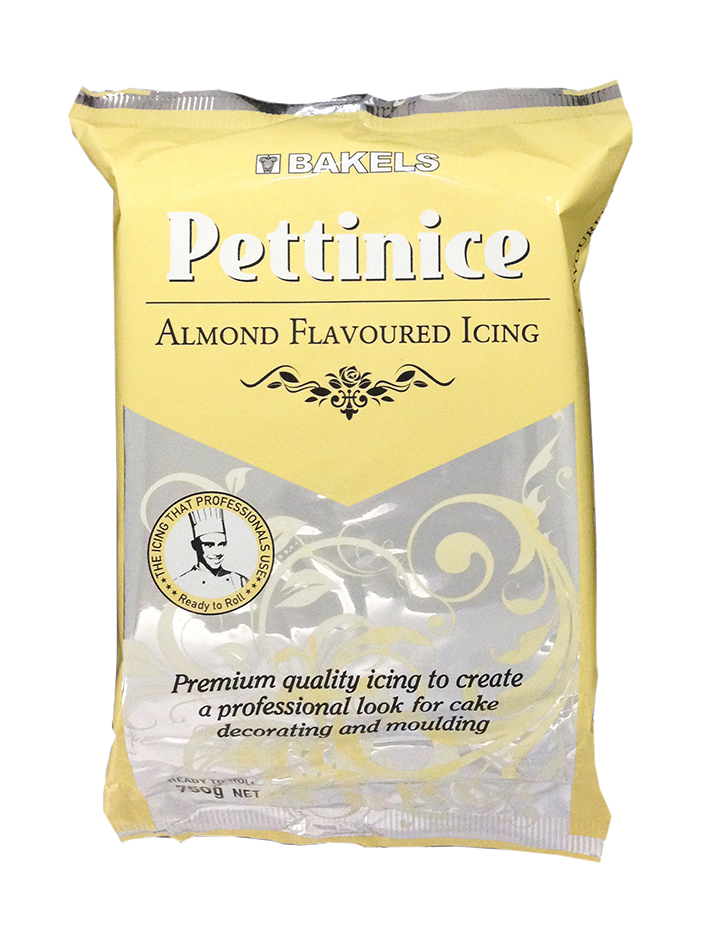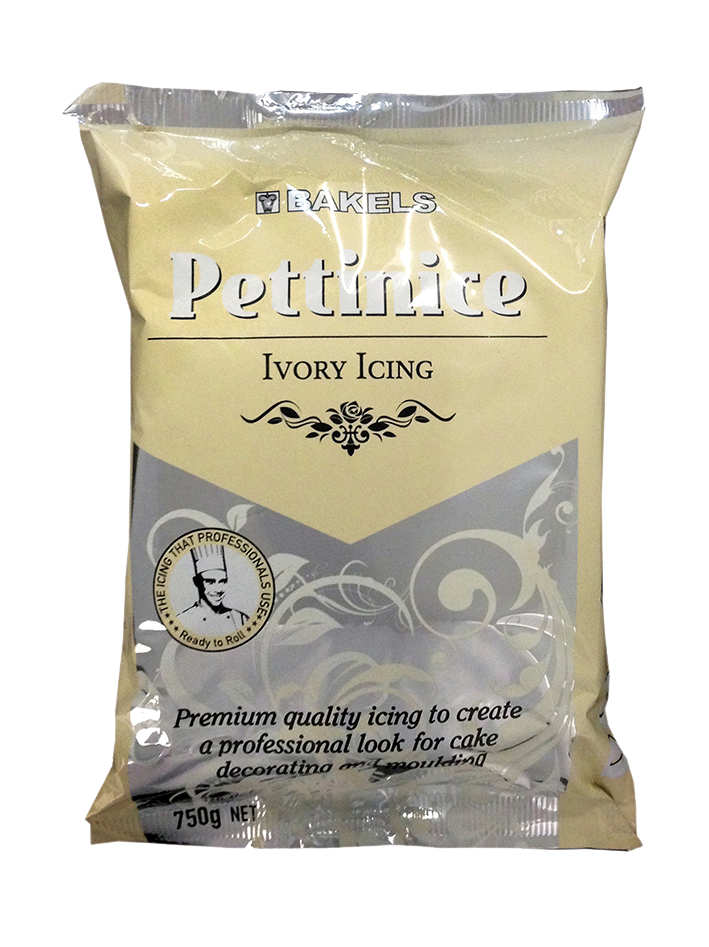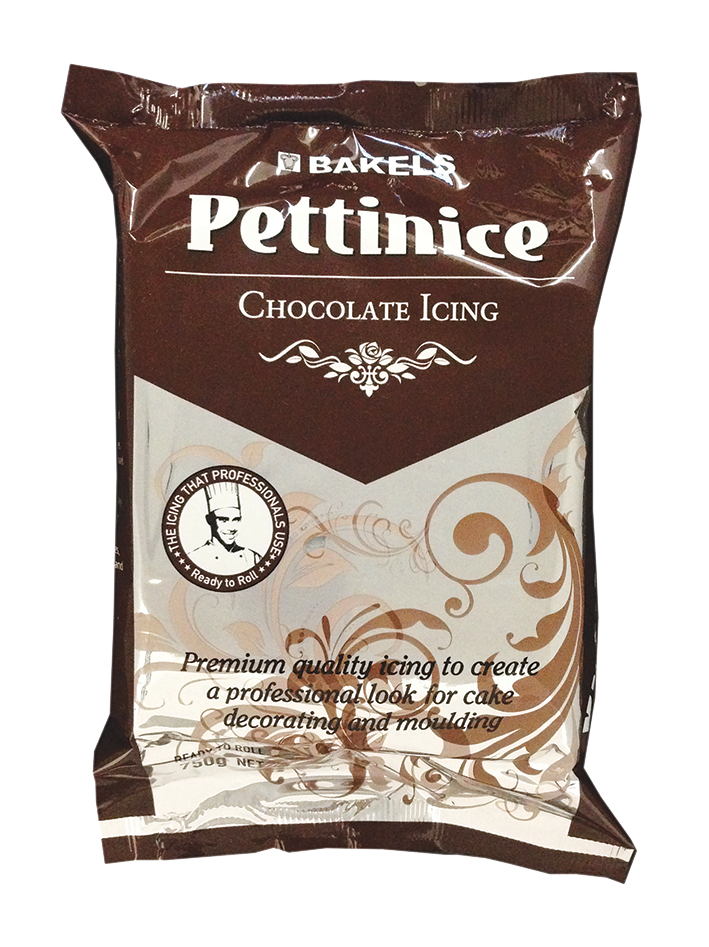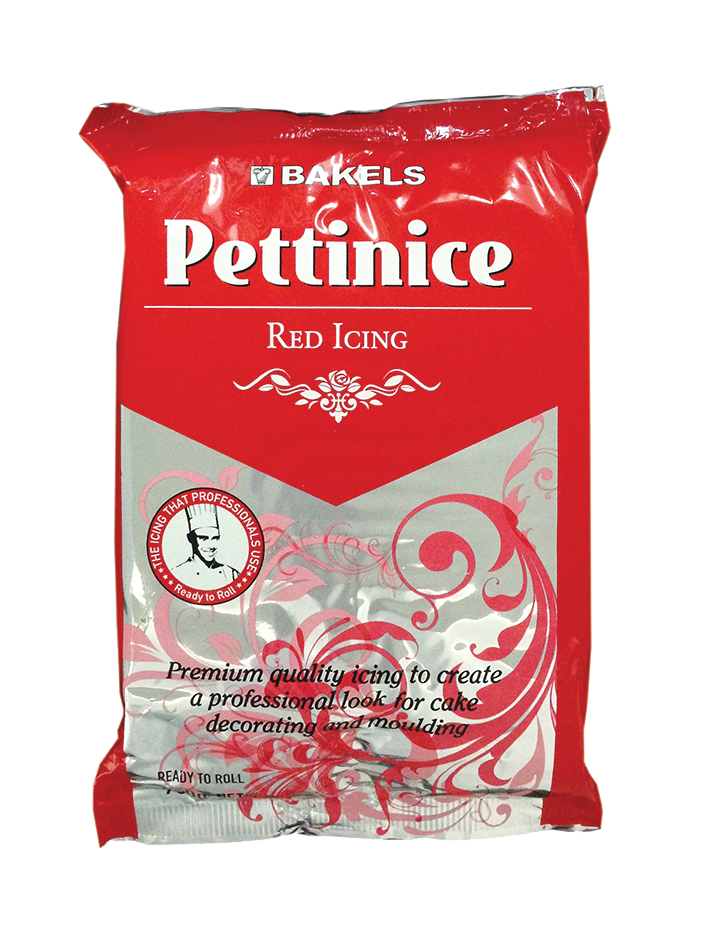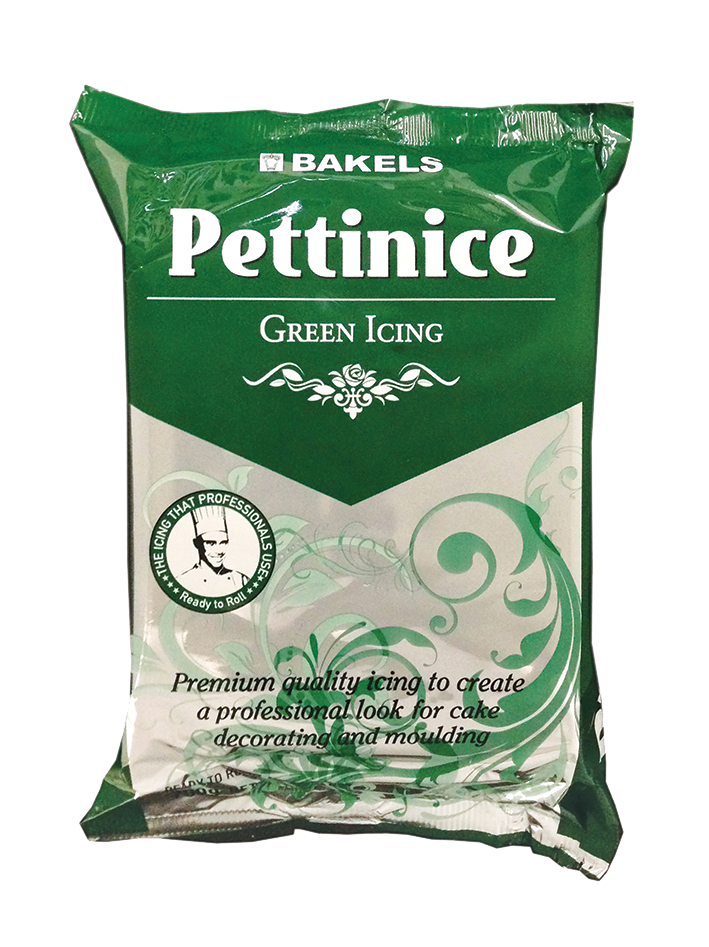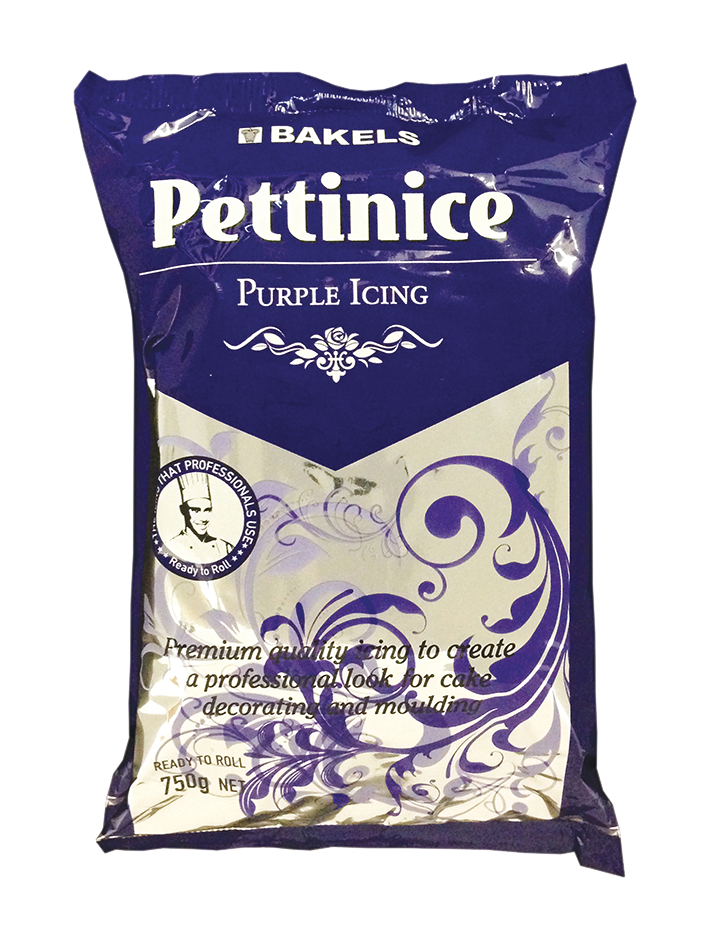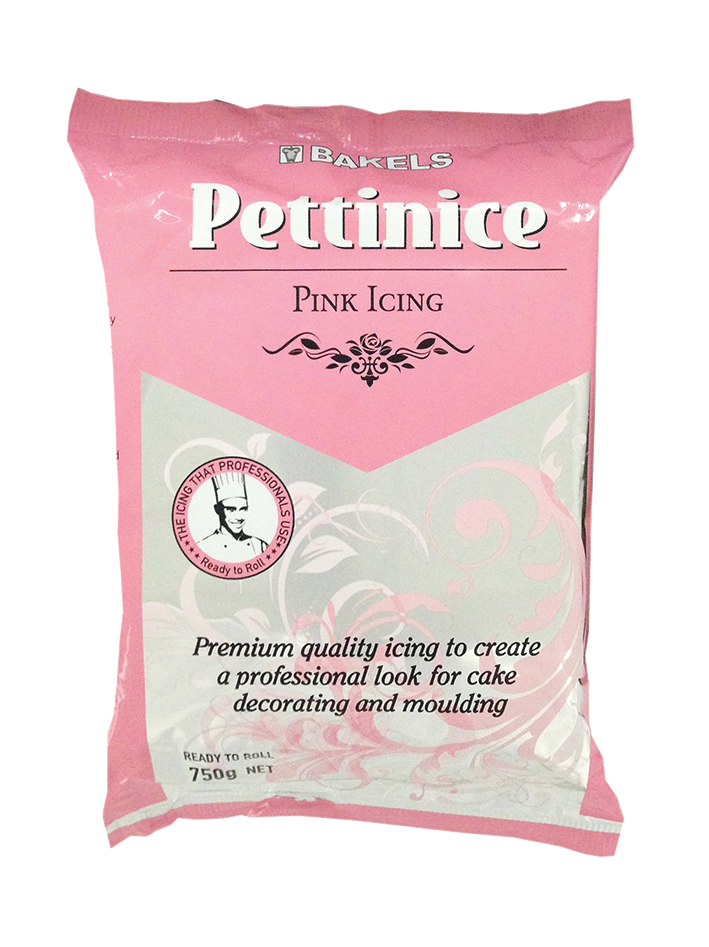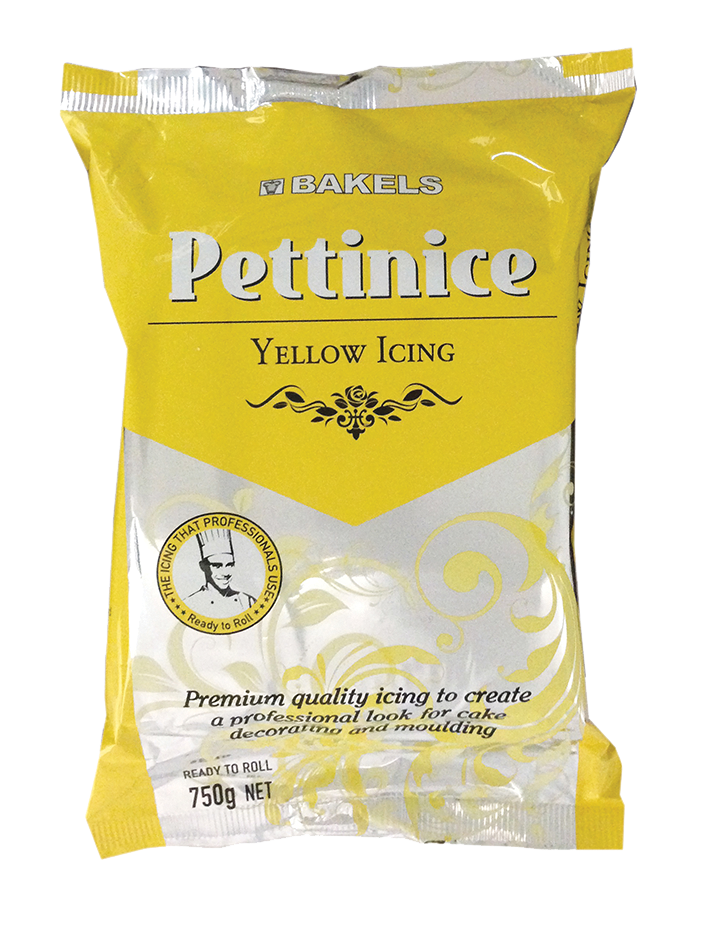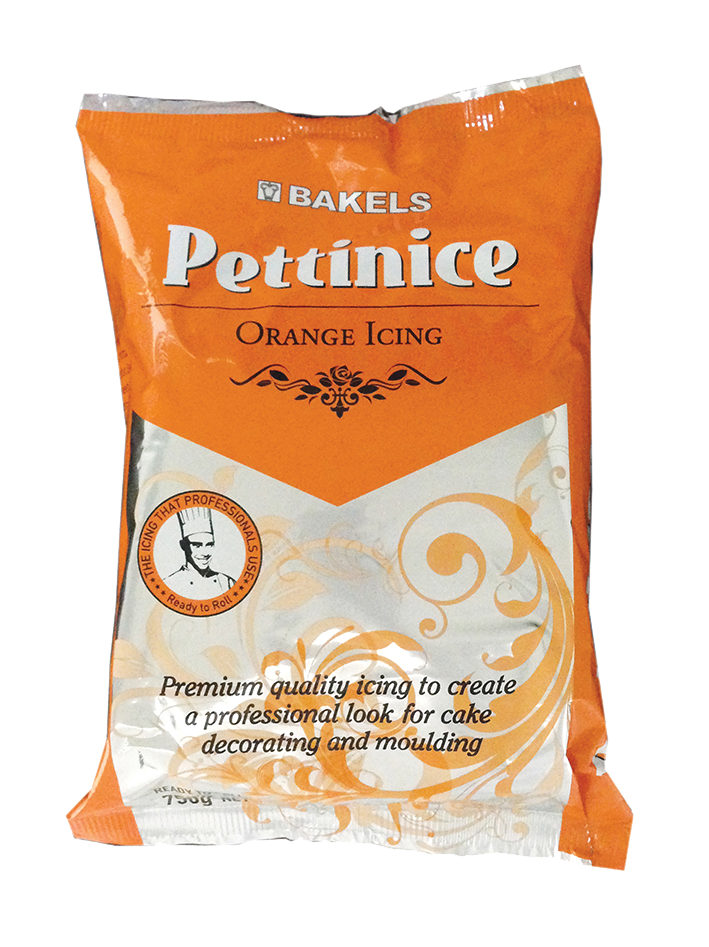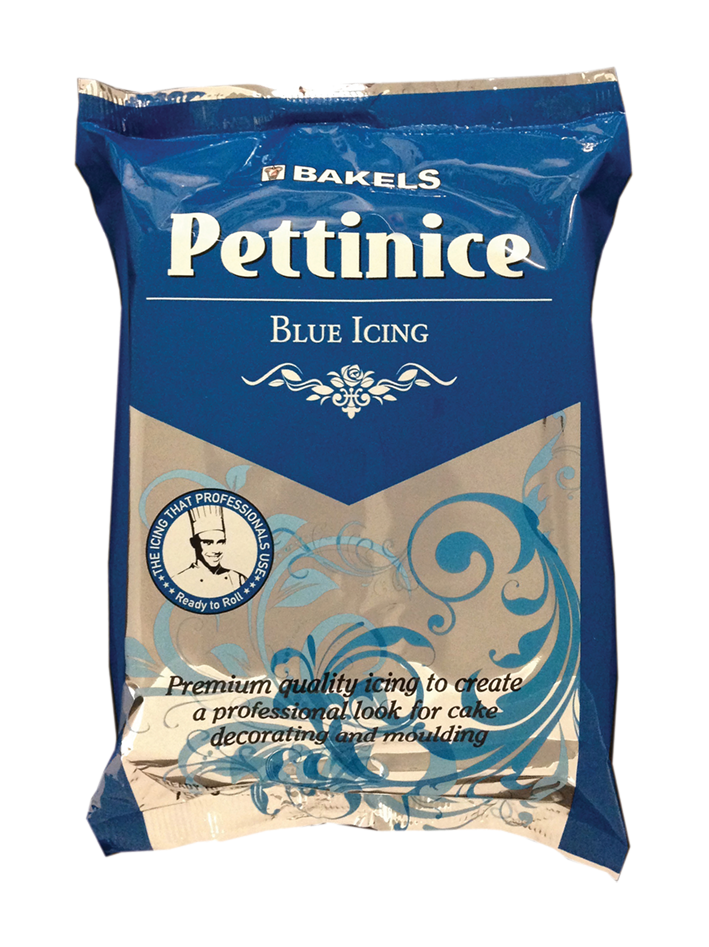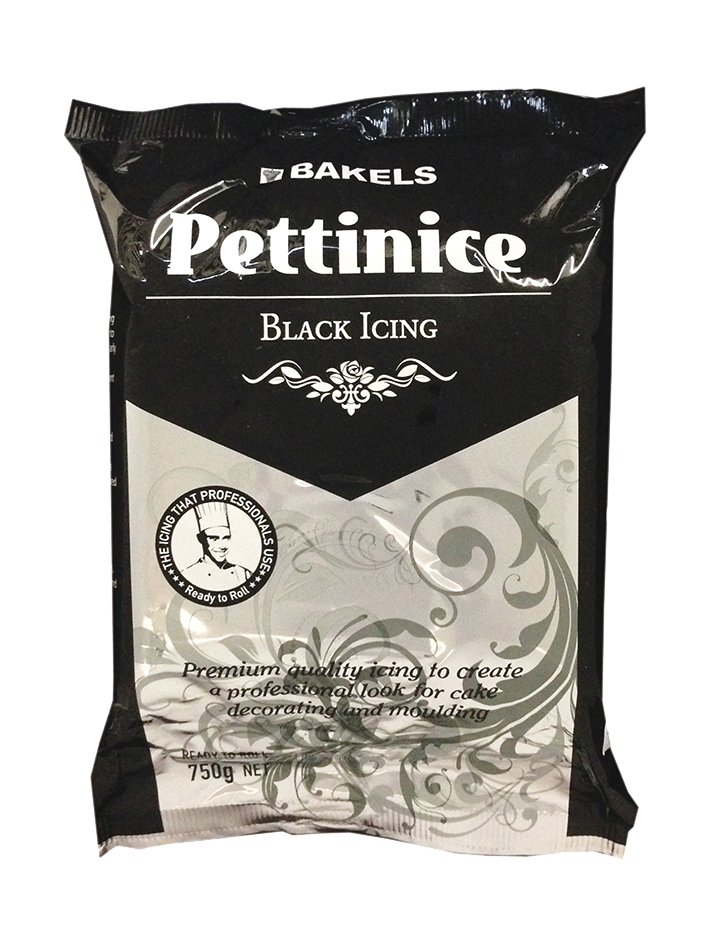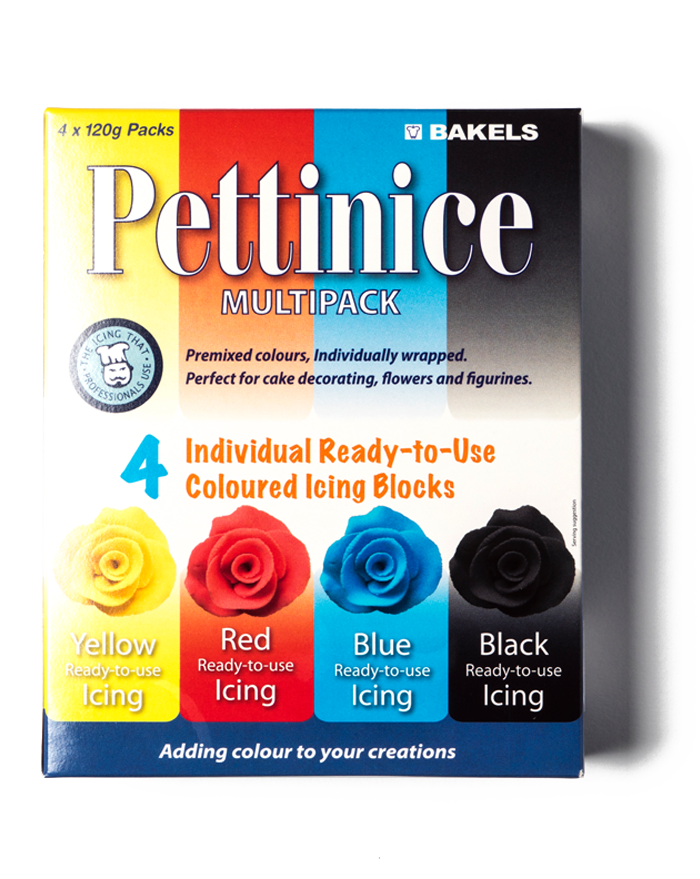 Egg Free, Gluten free, Dairy Free, Nut Free, Vegetarian, Halal, Kosher.  
Pettinice is vegetarian friendly as all the ingredients are plant based. However, Pettinice cannot be classified as a Vegan product as the vegetable fats are processed on the same lines as animal containing fats. The levels of cross over are trace, but the product cannot be considered vegan.
Allergens:  Soya
Storage:  Store in cool, dry and dark conditions for up to 12 months. Storage pack must be sealed.  
General   
This product shall at the time of delivery conform in every respect to the provisions of the Australia/New Zealand food standards and regulations made there under.
Certifications

 Halal Certificates 2018

 Halal Wet Plant Certificates

 2018 Certificate of Kashrut (Kosher and Parve) 
Sustainability

 NZ Bakels Limited RSPO 2020

 Bakels Truffle RSPO
Bakels is committed to the procurement of raw materials from suppliers who utilise and support the development of Sustainable Production Processes. The issue of Sustainable Palm Oil production is a concern to our Company.
In line with our commitment to Sustainability, Bakels has been a member of the Roundtable on Sustainable Palm Oil (RSPO) since June 2011. RSPO is a global, multi-stakeholder initiative on sustainable Oil Palm products. Members of RSPO and participants in its activities come from many different backgrounds, including plantation Companies, manufacturers and retailers of Palm Oil products, environmental and social NGOs and from many Countries that produce or use Palm Oil products. The principal objective of RSPO is "to promote the growth and use of sustainable Palm Oil through cooperation within the supply chain and open dialogue between its stakeholders".
In line with the growing demand from customers and availability from suppliers Bakels Edible Oils is able to offer our customers Certified Sustainable Palm Oil (CSPO) as either Mass Balance (MB) or Segregated (SG) which conforms to the RSPO Supply Chain Certification Standard. These supply chain models monitor the trade of RSPO certified Palm products throughout the entire supply chain as a driver for mainstream trade in sustainable Palm products.
As a responsible supplier of quality ingredients to the Food Industry, Bakels Edible Oils is committed to continuous improvement in its processes and Policies relating to Sustainability.
   Check our progress at www.rspo.org