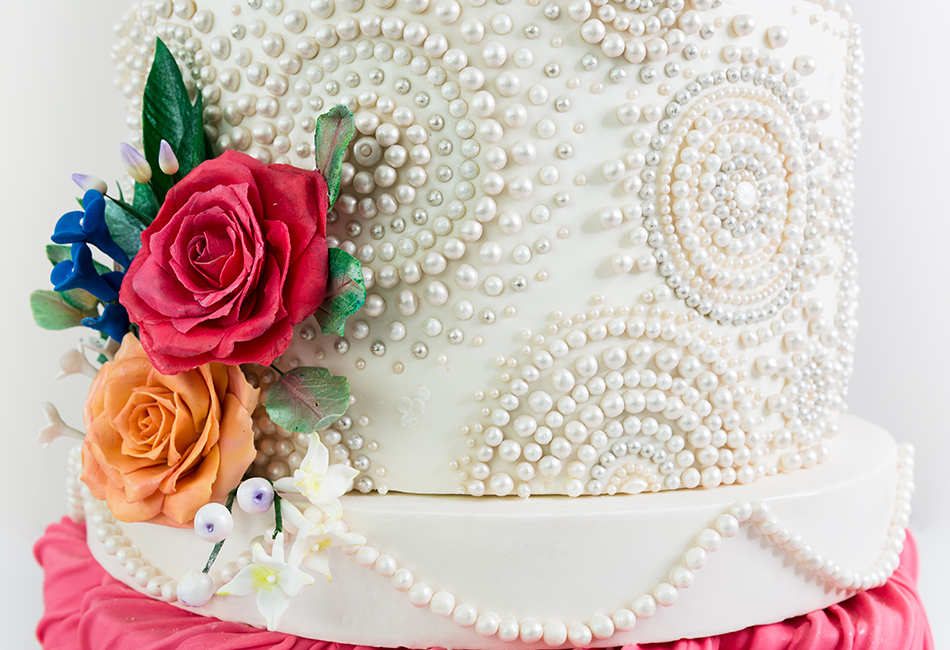 Kerry, Jo, and I used the Chanel Spring 2015 runway collection as inspiration for creating our showpiece display featuring several satellite cakes. Shown here is the centrepiece: a beautiful seven-tiered cake which was displayed for several weeks in a shopping centre as part of a group of collaborative cake displays featuring New Zealand cake artists and calling for popular public vote.
The Bold and the Beautiful! We used almost all the Pettinice colours, including almond!
Our main base colour was Pettinice Ivory, and our colour pallet of floral shades, peach and raspberry were created by colour mixing the Pettinice packs. We also used Pettinice Blue straight from the pack, as it provided the gorgeous colour pop we needed for the filler flowers. So vibrant! Incorporating a round tier in the centre was a fun design challenge, and covering these large seamless tiers was a breeze, as Pettinice handled the shapes beautifully. The beaded pattern featured individually hand-rolled pearls (the palms of hands are still screaming! heehee) and is borrowed from a dress we fell in love with. The pleats were inspired by the playful ruffled fabrics Chanel featured on the runway.