Meet Dot Klerck, Pettinice Ambassador - South Africa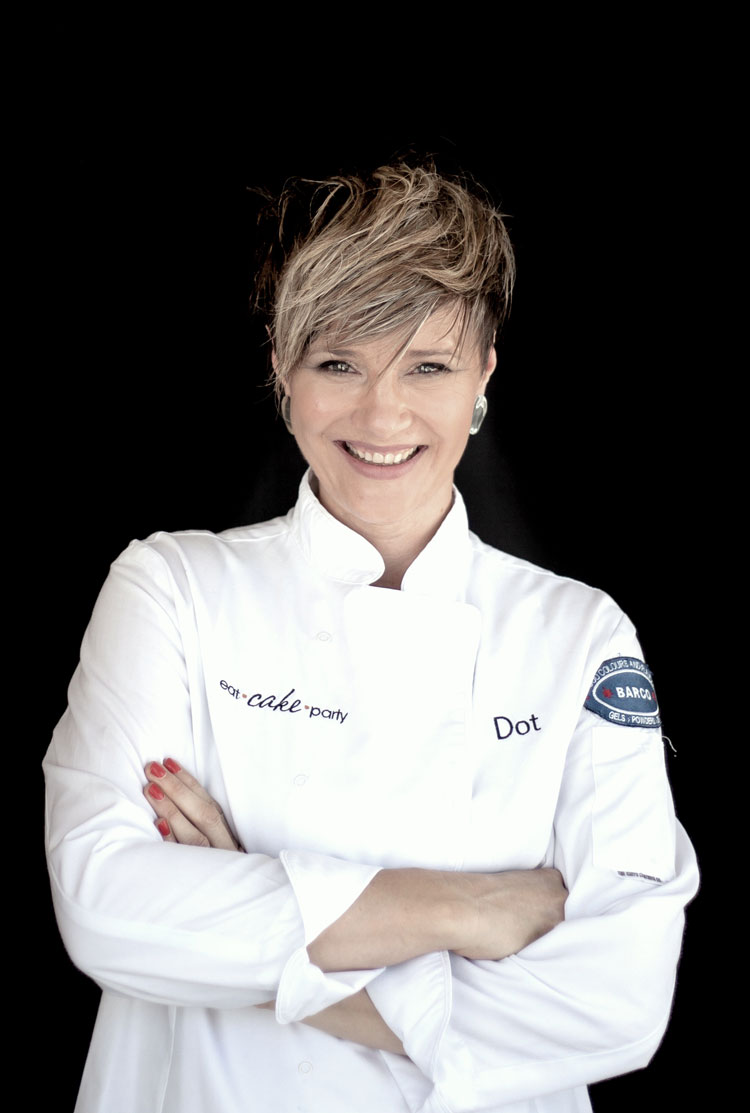 Eat Cake Party
Wellington, South Africa
See more of Dot's cakes on
Pettinice is the only fondant that I have used for all my cake projects since I've started with cake decorating. I've used it in dry conditions, humid conditions with and without modeling chocolate mixed in and I trust it completely!
Dot hails from Wellington, South Africa and honed her skills in art and sculpture before falling head over heels into the sugar world. Now an international multi-award winning cake artist, she started out making cakes for her four children and from there it became her business.  Dot travels around the world teaching sugar craft and continues to create cakes in between classes. Dot is married with 4 children.
We had an opportunity to ask Dot about her cake journey, and this is what she had to say.
What is the very first cake you remember making?
The very first cake I made was a teddy bear cake with Smarties on his tummy!! I think it was still presented in the pan I baked it in!! Horrors!!!
What was the defining moment you realized you would do this as a business? 
I started making cakes and cupcakes for friends and family. I was already baking artisan breads and pastries for small events in my town so when friends of friends started ordering my cakes for events and gatherings, I jumped at the opportunity because I enjoyed creating unique things instead of creating the same breads and platters.
What has been the most challenging cake you have made to date?
The most challenging cake I have made has to be the Great Barrier Reef Cake I made in Brisbane last year. It was a huge installation and our time was severely reduced by 9 days for several different reasons. Margie Carter and I even had a car accident on delivery day! Luckily the truck carrying the cake was ahead of us, other than some heat damage, everything else, and us, were undamaged!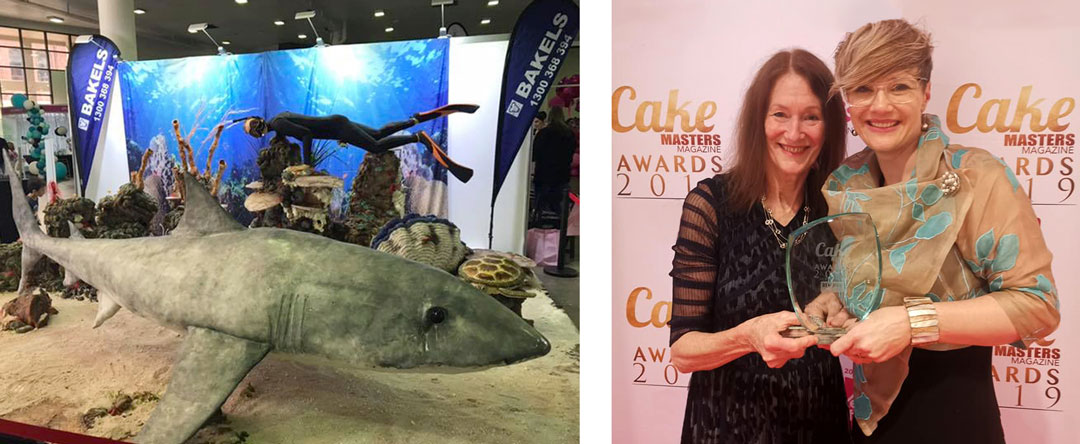 Read more about it here.
What was the last cake that made you cry? (from joy even!)
I don't cry easily, so when I do, it is 100% pure emotion! My Lion Pride cake was another huge installation I did over several weeks. In the middle of the project I had flown to Australia for a few days to attend the International Cake Show Australia and on my return to my work space, a huge wine cellar near my home, , I realized that all the hand painting detail I had done before I left had been destroyed by moisture and rain damage.
At that point I was devastated. I had a good cry and then phoned my hubby who organized huge fans etc and we managed to get everything dry and I worked through the nights to complete the cakes and painting. It was actually delivered in a huge rain storm with gale force winds in the middle of the night because of security protocols. It didn't get wet outside the trucks, but on arrival at the venue I realized the one truck had a leak and it was dripping right on my lioness's back. I didn't cry then, we just loaded them out ( by forklift). It was so windy that the cake (weighting nearly a ton) had to be strapped down to the forklift so it didn't blow off the forklift. Stressful times!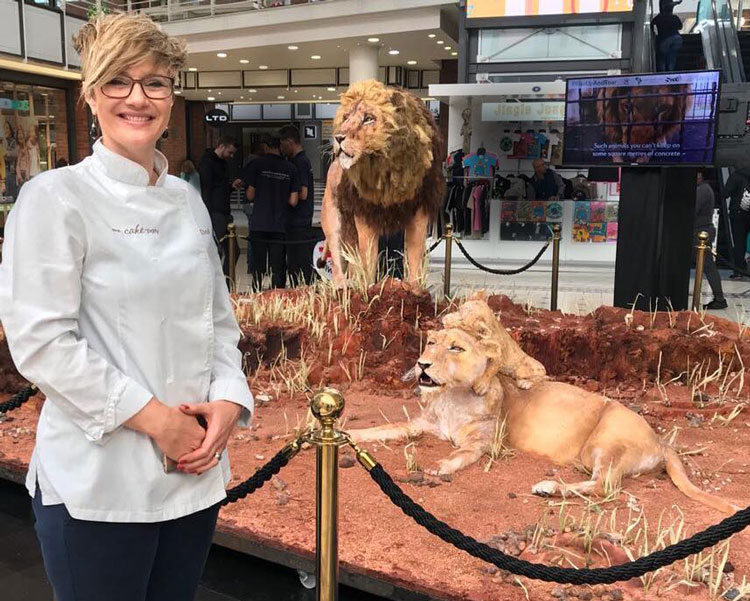 What cake do you wish someone would order?
I so badly want to make a life-size giraffe cake. I've been asked several times, but circumstances have prevented me from being able to. I hope 2021 is my year for the giraffe!
What is your favourite part / step of the cake decorating process?
My favorite part of decorating is when you get to the point in a project when you know it's going to work, it's going to be everything you want it to be. Sometimes you have to wait till the last few hours, sometimes it comes a bit sooner, but it's a sort of rush, or relief, but it's sweet!!
What do you listen to while you are decorating?
I love to have either the radio on or a podcast playing. Sometimes I put a Netflix series on my tablet and just listen to it.
What is your favourite Pettinice colour?
My favorite Pettinice colour is black! It's not too dry like other brands and much easier than mixing my own!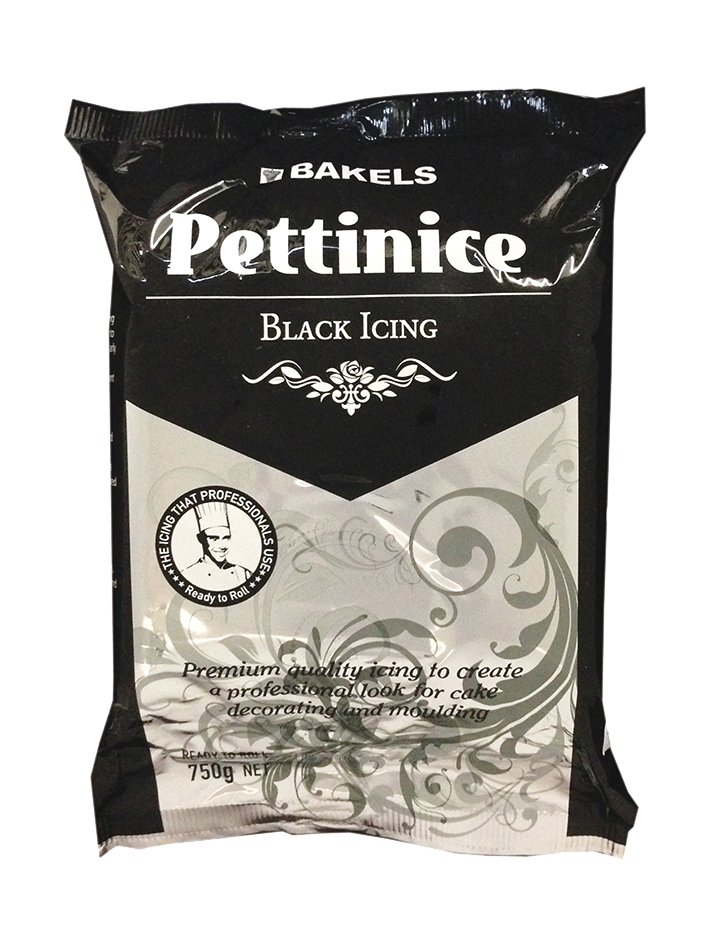 Do you make your own birthday cake?
I have only made my own birthday cake once! I have super cake friends who usually bake me a cake! It's so incredibly special!!
What's your favourite cake delivery story?
My favorite delivery stories involve happy brides, no car accidents or gale force winds and oohs and aahhs!! I recently made a bride cry!!
What's something you wish people would know about your business?
I guess what people don't always know about my business is that I don't have a huge team. I have one baker and on huge projects I will get some local chef school interns to help melt chocolate and soften fondant. Everything created here at Eat Cake Party is custom designed and made specially for each client.
What's next in your cake world?
I have several large cake projects that were put on hold because of COVID-19, so once we are able to congregate in crowds again, I'm hoping that we'll be able to organize these events again so I can create these projects. It's been amazing being home for such an extended time, I have been developing new classes and even filming some online tutorials. I'm looking forward to the challenges of a new cake industry post COVID!! 

See Dot's tutorials: